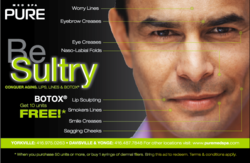 Toronto, Mississauga, Woodbridge, Burlington (PRWEB) July 04, 2012
Pure Med Spa has locations across Toronto and the greater Toronto area (GTA) and has been serving the Toronto gay community for many years. With an open and welcoming atmosphere, the spa offers a variety of services for all to enjoy. Using the special Pride-related slogan "Be Bare. Be Beach Ready. Be Sultry. Be Bright" Pure Med Spa was front and center supporting the local LGBT community during this special event.
Jeff Nourse, the owner of Pure Med Spa, said "We are proud to support LGBT Pride this year and partner with Pride FM in these events. We hope the Pride participants enjoy the exclusive offers our med spa prepared for them. Our Toronto locations and numerous booths on the street served the LGBT community with innovative and state of the art med spa procedures all Pride week long!"
As participants in the Pride events enjoy the festivities they are able to stop at one of the Proud booths and collect invitations to come sample the spa's offerings and special promotions on services including:

In addition 103.9 Proud FM ran several radio announcements offering a chance to win a $5000 Pride Makeover.
ABOUT PURE MED SPA
Pure Med Spa is the largest and most experienced privately owned aesthetic companies in Canada with over 600,000 procedures performed to date. All PURE services are provided in a comfortable and professional setting with the goal of helping clients achieve a more youthful and attractive appearance. Each PURE location offers services for men, women, and teens of all skin types, including Laser Hair Removal, Microdermabrasion, Rosacea Treatment, Spider Vein Treatment, IPL Photorejuvenation, Photo Facials, Chemical Peels, BOTOX® Cosmetic and Cosmetic Fillers. PURE offices utilize state-of-the-art technology and offer only scientifically tested, medically proven procedures with the very best records for safety and results. Owner Jeff Nourse is one of the pioneers in the medical spa industry in Canada. His focus on quality and dedication to pushing boundaries has made Pure Med Spa Canada's best and most trusted name. For a complete list of services visit its website http://www.puremedspa.com.
CONTACT
Oxana Sergeeva
Pure Med Spa
416.487.7848
pr(at)purelaser(dot)com