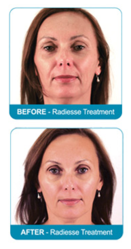 Toronto, ON (PRWEB) July 25, 2012
"At Pure Med Spa, we want clients to have a variety of optional dermal fillers or injectables for skin rejuvenation. That's why Pure Med Spa are pleased to offer a longer-lasting alternative to those looking for facial rejuvenation and wrinkle removal in Toronto," -comments Pure Med Spa CEO, Jeff Nourse.
Radiesse is a safe, next generation cosmetic dermal filler (skin filler) that lasts longer than many other fillers. Medical studies have shown that Radiesse is a safe, longer lasting treatment to fill and correct smile lines, nasolabial folds and wrinkles around the nose and mouth. It provides safe and long-lasting wrinkle removal.
Advantages of Radiesse

Provides immediate volume and stimulates collagen production.
Long-lasting results. Each treatment of Radiesse can last between 12-24 months depending on the treatment area, and up to 36 months in low movement areas.
Requires fewer injections than other leading fillers.You will need less injections to achieve results. Radiesse will maintain its plumpness and viscosity in the skin for years to come.
Amazing Natural-looking results for lower jaw line correction and cheek augmentation, deep lines and wrinkles around the nose and mouth, including smile lines, marionette lines, and nasolabial folds.
Radiesse cosmetic dermal filler can address many facial aesthetic and corrective needs. Because the results are natural looking and longer lasting, many clients turn to Radiesse to achieve a correction that revives, rejuvenates, and freshens their appearance. If your goals are to correct facial lines and wrinkles or to refresh your facial appearance, Radiesse provides a safe, cost-effective, and convenient treatment option. It can often be used with other skin fillers or with Botox to create impressive nonsurgical facial rejuvenation.
"The results of a Radiesse treatment are immediate. Radiesse dermal filler typically lasts a year or more, longer than most other skin fillers, saving you time and money," says Jeff Nourse President of Pure Med Spa.
Over 200,000 patients have experienced Radiesse as a nonsurgical facial rejuvenation. Years of rigorous industry and independent research worldwide, has proven that Radiesse is safe and effective, with virtually no risk of allergic reaction. Radiesse is biocompatible and is naturally absorbed by your body over time, working with your body to rebuild the fresh, natural look you desire - providing effective noninvasive facial enhancement.
Clientèle of the Pure Laser Med Spa will be treated to the best with the non-invasive, no downtime treatment with immediate results. "Non-surgical rejuvenation and skin tightening is a great way to enhance overall appearance and take 10-15 years off your face. Fine wrinkles are reduced, noticeable, lifting can be observed on sagging skin and texture of your skin even after the 1st treatment," comments Jeff Nourse. It is very effective and comfortable treatment that is safe for all skin types.
For more information of Pure Laser Med Spa or to find out more about other spa locations in the Pure family, visit http://purelaser.com or contact Oxana Sergeeva by phone at 416.487.7848 or by e-mail at pr(at)purelaser(dot)com