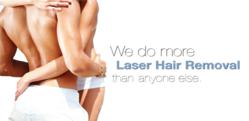 (PRWEB) August 16, 2012
Pure Med Spa's breakthrough laser technology can get rid of unwanted hair quickly, easily and with proven long-term results. "The beauty of using our technology is the ability to tailor treatments to each client, including your budget, the time you have and your skin colour. Our highly trained teams have performed over 250,000 procedures and are skilled at treating all skin types," says Jeff Nourse President of Pure Med Spa.
Imagine, it is now possible to conveniently obtain the ease, beauty and confidence of smooth, hair free skin. "Our goal is to provide the most technologically advanced techniques utilizing only the highest quality technology. Our highly trained team of professionals can help you achieve soft, sexy, hair free skin," comments Jeff Nourse President of Pure Med Spa.
HOW DOES IT WORK?
Each of your hair follicles is in one of 3 stages of growth at any given time. The "active growth" (anagen) phase, "regressive" (categen) phase, and "resting" (telogen) phase.
The laser hair removal is most effective at disabling "actively growing" hairs during treatment. It is during anagen that the hair shaft contains the greatest abundance of melanin, the target of the laser light. Many hair follicles are in their resting or regressive stages at any given time. The length of growth cycle also varies slightly by body area. Your Laser Hair Removal plan will be customized to obtain optimal results.
FEATURES & BENEFITS:

Laser hair removal results in permanent removal of unwanted hair. Statistics show that 60-95% of targeted hair is permanently gone after the recommended course of treatments.
Laser hair removal is an effective treatment for ingrown hairs. No more irritating skin and red bumps caused by those ingrown hairs we are all affected by.
Laser hair removal procedure is much shorter than other methods such as waxing and electrolysis.
No more shaving or waxing! Do you know that you shave 11,540 times in one lifetime - with statistics like this it is easy to see why anyone would like to remove unwanted hair permanently.
Jeff Nourse is on of the pioneers in the medical spa industry in Canada. His focus on quality and dedication to pushing boundaries has made Pure Med Spa Canada's best and most trusted name. Pure Med Spa has six location s across Toronto and Greater Toronto Area. For more information call us at 416.487.7848 or email us at pr(at)purelaser(dot)com. For a list of services we offer please visit our website at http://www.purelaser.com