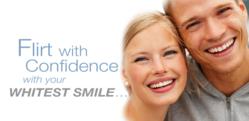 (PRWEB) August 08, 2012
As one of the leaders in teeth whitening industry, Pure Med Spa knows that a healthy and vibrant smile is one of the most important components of an individual's personality and introduces one hour laser teeth whitening service for a special summer price of $300 for two treatments (reg. $1,200).
Teeth whitening procedure is safe, effective, and convenient way to achieve the brighter, whiter smile you desire and get rid of stains caused by coffee, tea, wine, food, aging and tobacco. It utilizes the latest technology called blue light, allowing to produce dramatically whiter smile within one hour by several shades. This procedure is ideal for busy professionals looking for immediate results without multiple appointments.
The procedure begins with an initial consultation that can be carried out in just a single visit and is performed by dental hygienists in all 6 Pure locations across Toronto and GTA. This teeth whitening procedure requires no anesthesia, and it's perfectly safe. After preparing patient's mouth, the Pure Laser dental hygienist applies a a pH-balanced hydrogen peroxide gel to patient's teeth and activates the teeth whitening process with blue LED light.
"All teeth whitening procedures are performed by dental hygienists to help ensure maximum comfort and satisfaction. You'll leave our office with a smile that's up to 10 shades whiter," says Jeff Nourse, Pure Med Spa President.
For more information on Laser Teeth Whitening services, packages and price guarantees, please visit http://puremedspa.com or call to book your complimentary consultation at 416-487-7848.
About Pure \ Med Spa
Pure Laser Med Spa is a successful and growing provider of med spa services with 6 centers throughout Toronto GTA. Each Pure location offers services for men, women, and teens of all skin types, including laser hair removal, skin rejuvenation, Botox® Cosmetic and dermal fillers, fractional laser resurfacing, Velashape body contouring and teeth whitening, as well as, treatment protocols for acne, vein treatments and skin tightening. All treatments at Pure Laser Med Spa are performed by licensed aestheticians, certified laser technicians and registered nurses, and are supervised by the clinics' medical director.