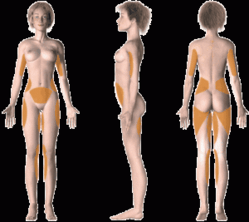 (PRWEB) August 31, 2012
"If you have a stubborn area of fat, maybe on your thighs or stomach, then Ultrasonic may be the answer for you. Clients can see improvements shown by measurement after a two hour Ultrasonic treatment session." - comments Jeff Nourse President of Pure Med Spa.
Ultrasonic cavitation (ultrasound cavitation) is a newer, non-invasive surgical technique which uses an ultrasound cavitation slimming machine which emits ultrasonic waves to cause what are known as "cavitations" in fatty tissue. Cavitation then destroys the fatty tissue, while leaving all other tissues intact. It is able to target the fatty tissues only by operating only at a specific, narrow band of frequency. Once the fatty cells die off, they are absorbed into the blood stream and excreted in your urine. What's more, cavitation is 100% outpatient, barring any rare complications. There is 0 recuperative time, other than following a few simple rules.
"This treatment isn't just for the girls. Popular male sessions are commonly described as treatments for love handles or man boobs. Some of our male clients were considering having a Gynecomastia operation for male chest fat reduction, however they were satisfied with the results from Ultrasonic that they didn't need to go down that costly and invasive path."- comments Jeff Nourse President of Pure Med Spa.
For women who would like to change their shape and get body confidence again, this may be the treatment for you. The treatment will usually show an immediate change. You may need from only 2 to 5 sessions in total, to get the desired results. "We like to remind our clients that this is not a alternative to eating a healthy diet and exercising. This is a treatment that we believe can enhance your physique and help with your confidence."-says Jeff Nourse President of Pure Med Spa.
Clients benefits are primarily focused around the potential to expel excessive fat deposits in difficult to move areas due to lifestyle restrictions. This 'spot reduction' may now be achieved without having to greatly reduce your total body mass in the meantime. Common areas seeing measurable success on both male and females include the abdomen, upper arms, buttocks (inclusive of cellulite), and both inside and outside of the upper leg. Slimming of the face, neck, and jowls may also be administered although extreme caution is advised for areas close to bone, joints, and airways.
Jeff Nourse is on of the pioneers in the medical spa industry in Canada. His focus on quality and dedication to pushing boundaries has made Pure Med Spa Canada's best and most trusted name. Pure Med Spa has six locations across Toronto and Greater Toronto Area. For more information call us at 416.487.7848 or email us at pr(at)purelaser(dot)com. For a list of services we offer please visit our website at http://www.purelaser.com