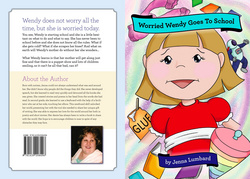 Charming and sweet… rhyming and lyric with bold illustrations, thinking about going to school just became fun.
Camas, Wash. (Vocus) July 14, 2009
Everyone has anxieties, but none more than Worried Wendy who fears her first day of school in Jenna Lumbard's debut children's book "Worried Wendy Goes To School." While serving as the premise in the first book of the series, it also happens to be the story of Lumbard's life.
"'Worried Wendy Goes To School' is a very special children's story by a very special young woman," says Amazon's editorial review. "Charming and sweet… rhyming and lyric with bold illustrations, thinking about going to school just became fun."
A Camas, Wash. native, Lumbard, 21, was born with autism and could not always understand what was said around her. She never developed speech, but learned to read very quickly. Then, with the help of a computer and personal aide, she transcribed the stories and poems she created in her head to share with others.
Lumbard's first book is the culmination of a life-long desire to share her stories with the world. She "hopes to encourage children to soar in spite of any obstacles they may face," she writes. Lumbard has already completed additional Worried Wendy stories that are currently in production.
"Jenna Lumbard is an inspiring example of what can be accomplished if you work hard and follow your dream," said Janet Milhollin, Lumbard's long time mentor. "Kids and adults who've read this first book have commented that it perfectly describes their feelings on that first day of school. While Jenna doesn't communicate verbally, what she tells us with the written word is powerful and accurate. She knows what it feels like to be worried like Wendy and she wants to help others feel more secure, just as she has learned."
About the Book:
"Worried Wendy Goes To School" introduces a young girl named Wendy who is about to go to her first day of school. While she understands the concept, Wendy is not so sure about the particulars. She does not know the rules and she really does not know what to expect, which worries her tremendously. She thinks of a plan to get out of going, but Wendy's mother knows all her tricks so there is no getting out of it. As Wendy puts one foot in front of the other, she learns that with a little faith and a few smiling children everything will be alright.
The book was recently awarded an Honorable Mention at the 2009 Hollywood Book Festival.
ISBN-13: 978-1439208496
ISBN-10: 1439208492
Format: 10 x 7 x 0.1 inches, 38 pages
Availability: Now on Amazon
To send Jenna your comments and encouragement, and to stay informed about upcoming books and activities, please become a Worried Wendy Facebook fan.
For more information on the book or author, please contact the author's publicist, Erika Powelson, at 831-424-1811.
###