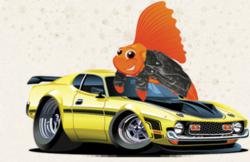 It's crazy for me to believe that Jennie Garth is going to be back on the market.
Los Angeles, CA (PRWEB) March 15, 2012
RoadFish.com men's lifestyle and finance magazine today released a statement of support for Beverly Hills, 90210 star Jennie Garth and Twilight Saga actor Peter Facinelli in the wake of their divorce announcement. Garth and Facinelli released a divorce statement to the media and put their $5.9 million-dollar estate on the market.
Justin Ravitz of Us Weekly reported that 39-year-old Garth and 38-year-old Facinelli split amicably, and released the following statement to Us Weekly: "While we have decided to end our marriage, we both share the same deep love and devotion to our children. We remain dedicated to raising our beautiful daughters together. We ask for privacy and respect during this time." Garth and Facinelli have three young daughters together. Reps for the couple aren't commenting on details surrounding the decision to file for divorce.
Online gossip column ScallywagandVagabond.com was one of the first media outlets to report the couple's divorce news. According to an article written by Brianne Chantal, a source close to the couple recently revealed that there is a third party behind their split. The source stated that Facinelli had met a Canadian woman while he was in Vancouver filming Twilight's Breaking Dawn, and became involved in a "short, torrid affair" with her. The source stated, "Peter had been seeing another woman for quite some time. They tried to make it work for the sake of their children and Jennie played housewife for as long as she could but finally had enough. As a lot of couples do, they simply grew apart. As the mother of his children, Peter still loves Jennie very much and vice versa."
RoadFish.com's Senior staff writer is quoted as saying, "It's crazy for me to believe that Jennie Garth is going to be back on the market. When I first laid eyes on her in the original Beverly Hills, 90210 first season, I could not help but think she is an absolute goddess and deserves to be treated like one. I wish the best for Peter and Jennie and sincerely hope that the split can go as amicably as possible."
Garth is best known for playing the role of Kelly Taylor on "Beverly Hills, 90210." She got her start with a role on "Growing Pains" but became a household name with her leading role in 90210, for which she was nominated and won Best Young Actress Starring in a Television Series for the Young Artist Awards in 1992. She has since acted in various films including "Girl, Positive," "Secret Santa," and "My Brother's War" as well as four seasons of "What I Like About You."
Facinelli got his start in the 90's with films such as "Angela," "An Unfinished Affair," and "Can't Hardly Wait." He has since performed in a handful of films, including the popular and well-known film adaptation of the "Twilight" series, in which he played Dr. Carlisle Cullen. He also currently plays the role f Dr. Fitch Cooper on the Showtime comedy "Nurse Jackie."
RoadFish.com's Senior staff writer empathizes with the challenge of breaking up, and stated, "It's hard enough going through a divorce outside of the media spotlight. I feel for the couple and hope that the media will respect their request for privacy so they can sort out the complications that are ahead of them."
Garth and Facinelli first met in 1996, while they were filming "An Unfinished Affair" together. They dated for 5 years and were married in 2001. Their children include daughters 14-year-old Luca Bella, 9-year-old Lola Ray, and 5-year-old Fiona Eve.
About RoadFish.com
RoadFish.com is an online men's lifestyle and finance magazine targeted toward men in their 30's and 40's that have already attained a moderate level of success in life, and are striving toward more. It goes over current events of interest to this group, such things as exciting adventures, making money, consumer interests, luxury items, and dating tips, as well as ways to make more and save more money. It is a publication owned by Purpose Inc.
###