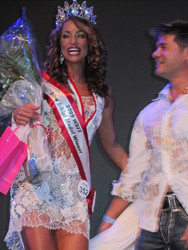 Right after our first win, Berns and I started our creative collaboration instantly for my next winning suit. We have racked our brains to match my
Miami, FL (PRWEB) September 21, 2009
Int'l Fitness Celebrity, top fitness model turn mega-mogul Jennifer Nicole Lee defended her title, and won by placing winner over all at the WBFF Miss Bikini Diva Competition in Toronto on September 19th. She holds the World Championship Miss Bikini Diva title for 2 consecutive years in a row.
A few short years ago, JNL was a "fat and frumpy housewife" who never would have guessed to be competing and winning against some of the most beautiful and fit women of the world.
"My story is somewhat of a Cinderella novel. I went from an unnoticeable baby holder to a world class figure title holder. To know that I am inspiring other moms and real women alike to live out there dreams just now my passion. I know have been a cert. life coach for over 5 years-as I coach and consult with women around the world, from all corners of the globe. This is my true pleasure in life-empowering others to be their best."
JNL's weight loss success story has motivated women on a global level with key media appearances from The Oprah Winfrey show, E! Entertainment and most recently "The Secret Lives of Women "which will be broadcasted globally in October on the WE Entertainment channel. Now this top fitness model turned mega-millionaire mogul has added another accomplishment to her fitness resume by winning the WBFF World Championships in the Miss Bikini Diva division.
"Winning the WBFF Miss Bikini Diva title two years in a row is just a dream! I am proud and honored to have my passion for being an athlete, a top fitness model and a fitness competitor noted with this accomplishment. I also thank my entire Team JNL for their support and helping me prepare mentally and physically for this feat! I also would like to thank all of my fitness friends and fans around the world for their nonstop emails, phone calls of support to my office, and their letters of encouragement. I could not of done it without you! This win is for all of YOU!"
Former bodybuilder and the president of the WBFF, living legend Paul Dillet states "Jennifer Nicole Lee the hardest working woman in fitness and definitely a role model for all woman. She exudes passion and enthusiasm like no other I have ever seen, I am very proud to call her the WBFF Diva Bikini Champion"
JNL states "It has taken a lot of hard work to get where I am with my career and also to be able to balance my life with my kids and husband. I won't let anybody or anything in the way of my dreams and goals." JNL continues "I am a perfectionist and I am never satisfied. I never met anyone that works harder than me in my industry."
Training for her defending Miss Bikini Diva Title was more than just the physical, it was mental. JNL relied on her coach of over 3 years, "Wicked" Willie Del Sol. JNL named him "Wicked Willie" immediately as she saw he shared his same passion to be a coach, as she does to be coached and to take her physique and training regiment to another level. Her fitness model workouts and fitness model diet can be researched at http://www.FitnessModelProgram.com "I admire how hard he works to get me to work hard. He never lets me fail myself, he scares people off in the gym if they try to talk to me, and he sets the record straight in the gym that I am there to train, focus, and not to waste my time or his time by engaging in a no brainer chat fest. He often tells people to call me or email me later as this is my time in the gym to quantum leap my training. If I just can't seem to push myself anymore, he is there to coach me to finishing. He never lets me quit on myself, and this same energy then shows up on the stage. When I walk out, the other contenders and the audience knows that I came to win, and that there is no other option. I thank my coach for this priceless energy and coaching."
To compete on JNL's International Fitness Celebrity level, you have to go way above and beyond than just deciding to compete and signing up. JNL has daily conference calls and visits by her stage coach, for her walking and overall presentation. "For every day up until competition, I am forced to watch my walk, presentation, turns, and poses from my show last year. My coach instructs me to see what I did right my last competition, while pointing out what I can do the next time to perfect my presentation. I have seen my stage appearance so many times, that I constantly see it in my mind, and I know every turn, pose, and stance. I am grateful for my coach and inner circle of experts to help to evoke and pull the best out of me, to defend my title and win."
As you can see from the event photos, JNL's custom made designer suit which she calls the "Golden Python", was a wearable masterpiece of artistic creations. JNL contracted close fitness buddy and expert couture designer Bernadette of Passion Fruit Designs to create her award winning suit. "Right after our first win, Berns and I started our creative collaboration instantly for my next winning suit. We have racked our brains to match my "La Tigra" animal print masterpiece, which gets global exposure on my international infomercial. We have people from all over the world calling Berns office to replicate my La Tigra suit, and we are both touched and honored. Berns, head designer and President states "When JNL calls my office, I know that I'm going to be challenged and what she orders will be top notch. We have a close spiritual connection that is priceless, and I am honored to design for her."
Nutrition is not an easy task when preparing for a contest. JNL is a Team BSN Athlete and trusts her physique, athletic stamina and performance to their stellar line of supplements. "I know how my body reacts to certain foods and supplements, and BSN is the best and will help me to finish first."
Besides training, dieting, and practicing her presentation for her Miss Bikini Diva Competition, JNL recently created a new umbrella company to her empire, "JNL Worldwide, Inc." based on the business system of Kathy Irelands Worldwide, Inc. She is busy taking conference calls, meetings, and making monthly visits to HSN, where she broke an HSN record, by selling over 17,000 Ab Circle Pros in under 6 hours of airtime. The dollars per minute sales was the highest HSN has seen in some time. She is currently working on her next big infomercial hit. With celebrity appearances, her book http://www.MindBodyandSoulDiet.com out 01-01-2010, a new global company, and monthly shows on HSN, JNL guards her time very wisely and budgets it well, so she can still have fun "down time" with her family.
JNL TRAINING FOR MISS BIKINI DIVA http://www.youtube.com/watch?v=J997RUxIAHY
JNL ON HSN http://www.youtube.com/watch?v=SoFj-nBKSDQ
###