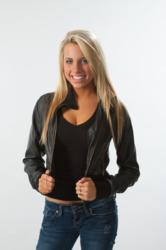 Farley: "She's got a magical voice and is one of the finest artists I've found in 20 years. She's gonna be a star. I can't even swallow that she's 16."
New York, NY (PRWEB) March 16, 2012
Pop music on the radio in the USA is in a state of flux. After many years of hip hop and r&b artists dominating pop charts, dance music is returning as the genre of choice for even artists like Mary J. Blige, Usher, Timbaland and Pitbull. Certainly European producer David Guetta led the path for these artists to embrace more uptempo rhythmic music that is gaining traction on major artist albums, traditional and internet radio, and Billboard.
Enter 16-year-old singer Jennifer Ashley, born in New York City and now a high school student in Jupiter, FL. Many high school 'kids' have great voices, but Jennifer Ashley stands out nationally for excelling in the studio where she recorded her first song "Love Ready" for the Stevie Nice Music Group, based in NYC. Besides laying down fantastic vocals, she made her own video for the original mix of the song, and after earning a fanbase at her own high school, she quickly made waves among teenagers in Jupiter, FL, then South Florida, and wisely using viral marketing tools that are commonplace among her peers like youtube, all for fun and with absolute innocent enthusiasm. On youtube now for instance, her views are growing by thousands per day. Jennifer has taken off.
Watch Her Homemade Video - Nearing 100,000 Hits From Scratch
Stevie Nice Music Group (NYC) took notice and immediately signed Jennifer Ashley and has begun a full-scale recording of her first full-length studio album, co-produced by Stevie Nice Music Group with the remixer whose reproduction of her song readied the song for pop radio worldwide.
The radio mix was re-produced by one of the most-connected and talented of his peers who produce dance and rhythmic pop music. Farley's curriculum could not be more expansive. He holds degrees from the Graduate School of Arts & Sciences at Columbia University in NYC; he was tapped at the age of 25 to be the CEO of one of the most prolific independent dance music labels in NYC; he then partnered with Junior Vasquez and managed the dj/music producer (Whitney Houston, Madonna, Beyonce, Justin Timberlake, Mary J. Blige, Cher, Elton John) for a 9 year continuous heyday for Vasquez and Junior Vasquez Music; he currently manages and operates the best selling dance music act of all time, C&C Music Factory besides his own renowned Continuous Cool label and music strategy enterprise.
Buy "Love Ready" including Farley mixes here
Farley's passion is sitting in his studio making music. Last month he was commissioned to write and produce a song for Jennifer Lopez' forthcoming album, and the pace of his studio work is impressive. Continuous Cool is a hitmaker. His studio partners are Del Pino Bros, who co-produced the remix.
Farley remarks: "Of every new artist I have come across in 20 years, I am most impressed by this amazing, beautiful, brilliant young woman. I think that's why Jennifer's "Love Ready" is the favorite thing I have done lately."
Jennifer commented on her release date: "There's nothing I love to do more than sing, and it is a gift from god that so many people are coming together and fans reaching out to me so that I can have my first full length album out on September 24th!" A great voice that fans are noticing, as youtube hits jump.
The consensus behind-the-scenes in the music industry is that Jennifer is a breath of fresh air to our genre of music as it takes over as the predominant music in the USA again.
Thank goodness for a new real talent who's savvy enough to make things happen for herself despite any adversity!