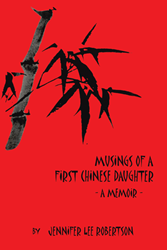 Robertson believes that the fast-changing world and lifestyle must not alienate one from one's cultural heritage. Robertson says, "Confucius' emphasis on personal responsibility, self-respect and respect for others must not be forgotten."
Brisbane, Australia (PRWEB) November 04, 2014
Reflecting on the romance of a bygone era in Chinese history, author Jennifer Lee Robertson examines the ever-changing Eastern mindset in her new book, "Musings of a First Chinese Daughter: A Memoir" (published by Partridge Singapore).
Robertson was born of Chinese parents whose cultural history she feels is being swiftly overshadowed by an obsession with Westernization she sees displayed in modern-day China.
"The traditional Chinese of my parents' vintage are gone," Robertson says. "The rich cultural heritage and civilization do not seem to be a palpable presence today. China is engrossed in not only fighting against the West, China wants to supersede the West. Culturally, the younger generation may want to be more 'Westernized' in their hungry embrace of a modern lifestyle."
Robertson's book highlights the inherent differences between China and the Western world, while fostering appreciation and understanding of the Chinese civilization in an attempt to spread a more peaceful mindset around the world.
The author believes that to be computer-literate is not enough, she stresses the importance of education's humanizing influence. Robertson believes that the fast-changing world and lifestyle must not alienate one from one's cultural heritage. Robertson says, "Confucius' emphasis on personal responsibility, self-respect and respect for others must not be forgotten."
"Musings of a First Chinese Daughter"
By Jennifer Lee Robertson
Hardcover | 6 x 9 in | 312 pages | ISBN 9781482890488
Softcover | 6 x 9 in | 312 pages | ISBN 9781482890495
E-Book | 312 pages | ISBN 9781482890501
Available at Amazon and Barnes & Noble
About the Author
Jennifer Lee Robertson, a qualified teacher with 25 years of teaching experience, has taught in Malaysia in addition to teaching in private and public schools in Australia. She has honors degrees in history and English and was head of the English faculty in her local high schools. Her website is http://www.jenniferleerobertson.com.
Partridge Singapore is a partnership between the Penguin Group, the world's foremost trade book publisher, and Author Solutions LLC, the industry leader in supported self-publishing, that aims to help writers in Singapore, Malaysia, and the rest of Southeast Asia become published authors. Partridge Singapore gives authors in the region direct access to a comprehensive range of expert publishing services that meet industry standards but are more accessible to the market. For more information or to publish a book, visit partridgepublishing.com/singapore or call 800 101 2657 (Singapore) or 1 800 81 7340 (Malaysia). For the latest, follow @PartridgeSG on Twitter.