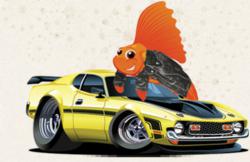 Guys definitely dig a girl who has the whole package, and she's got it.
Los Angeles, CA (PRWEB) April 13, 2012
RoadFish.com men's lifestyle and finance magazine today commended Eric Urlacher for his hot date with Jenny McCarthy on Tuesday night, and offered dating tips to its readers on what Jenny McCarthy looks for in a man. One tip was to take her to an expensive steakhouse for a first date, judging by where Urlacher wine and dined her on Tuesday night.
Starpulse.com reported that the former Playboy Playment of the Year was seen having dinner at trendy steakhouse Mastro's in Beverly Hills with Chicago Bears linebacker, Brian Urlacher, on Tuesday night. The article reports that McCarthy and Urlacher snuck out the back door of the restaurant to avoid the paparazzi waiting in the front. It was noted that McCarthy is originally from Chicago, IL, and Urlacher plays for the city's football team.
RoadFish.com dished out dating advice based on research done about past statements McCarthy has made regarding her preference in men. RoadFish advised men to have an online dating profile, in light of a November 2011 report from Hollyscoop.com that McCarthy had signed up for Match.com. Said McCarthy, "I have checked the men I like between 35 to 48." She had dated sports agent Paul Krepelka for two months in late winter last year, but in November McCarthy was quoted as saying, "Yes, I'm single. It's so hard out there."
RoadFish.com's Senior staff writer is quoted as saying, "Jenny McCarthy is one of the biggest sex symbols of my generation. I don't know a single straight guy that wouldn't want to date her. She's got the brains as well as the looks, too. She's a noted author and has a heart of gold for being active in raising awareness about autism. Guys definitely dig a girl who has the whole package, and she's got it."
Another piece of advice given by RoadFish was to be a nice guy, but a guys' guy at the same time. When asked by Hollyscoop in November what McCarthy looks for in a man, she is quoted as saying, "Just a nice guy, you know?" She stated that finding a nice guy is not that easy, claiming that "The guys are like chicks out here [in L.A.]. There's no real guy guys, so maybe importing from somewhere will be smart. Anyone not from L.A., I think."
39-year-old Jenny McCarthy got her start modeling for Playboy in 1993, and was later named their Playmate of the Year. She moved to television and hosted "Singled Out" for MTV in 1995. She has also appeared in a handful of movies including "BASEketball" and "Scream 3," and has guest starred on T.V. series such as "Just Shoot Me" and "Two and a Half Men." The model/actress has also written 8 books to date, including one on parenting and one on having an autistic son.
About RoadFish
RoadFish.com is an online men's lifestyle and finance magazine targeted toward men in their 30's and 40's that have already attained a moderate level of success in life, and are striving toward more. It goes over current events of interest to this group, such things as exciting adventures, making money, consumer interests, hot chicks, and popular music events as well as ways to make more and save more money. It is a publication owned by Purpose Inc.