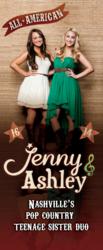 Teenage country duo Jenny & Ashley are releasing their brand new Spring single "My Kinda Life" on April 16th and are performing at the Poteet Strawberry Festival in Texas this weekend.
Nashville, Tennessee (PRWEB) April 10, 2012
It's been a busy beginning to the year for teenage country singing sister duo Jenny & Ashley.
They started the year off by performing at events for two charities near-and-dear to their hearts. The duo performed at Step-Up Nashville, on February 15th, a concert benefiting Soles 4 Souls at the Hard Rock Café in the heart of honky-tonk USA . Jenny & Ashley along with their fans started collecting shoes for Soles 4 Souls at their "Indescribable" video shoot last summer and will continue to collect at every tour date coast to coast this year. "We will forever be Soles 4 Souls supporters. What a great organization, with great people, and a great cause," said Jenny Cooke, the night of the event. Just a few days later they flew to Florida to perform in support of the Arielle Anacker Cancer Foundation The organization was founded by the mother of an 11-year-old girl who lost her battle to Ewings Sarcoma. Ashley Cooke thanked their host and said,"We are honored to perform at the first annual Arielle Anacker foundation gala and think it's amazing what Diane Trivelli is doing to help other families who are struggling with the disease and can't afford treatments."
Jenny & Ashley also have been writing with some of Nashville's finest females including Alissa Moreno, Bridgette Tatum & Emily Shackelton and have finished recording three new songs for the spring and summer. The first single is "My Kinda Life" written by Ashley Cooke and for sale on Itunes April 16th.
The girls are currently packing their bags for the first of many fair, festival & rodeo dates throughout the summer. Their first show is at the Poteet Strawberry Festival in Texas on April 15th.
Jenny & Ashley's put-the-top-down-and-cruise summer single video "Beach Weekend" has over 100,000 views and can be watched on Roughstock.com right here.
Jenny & Ashley's "Indescribable" music video is a montage of fairs, middle schools and summer camp tour dates from last year and can be seen on popstaronline.com right here.
Keep in touch with the girls in real time via twitter @jennyandashley, on facebook.com/jennyandashleyofficial or on their weekly blog at http://www.jennyandashley.com.
Management by Faithe Dillman & Marbaloo