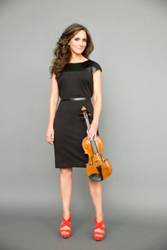 Our holiday concerts are our gift to the community. Nothing lifts your spirits more than music and we hope people will spend some time with us this December doing just that. -J. Ernest Green
Annapolis, MD (PRWEB) December 05, 2014
The holidays should be full of music. With Live Arts Maryland's holiday concert offerings, they are. This December, Music Director J. Ernest Green and the Annapolis Chorale will perform five of the areas best holiday concerts joined by a lineup of special guests. In an organization like the Annapolis Chorale that grew out of the community, performing for family and friends during the holidays is always very special occasion.
Says Music Director J. Ernest Green, "Our holiday concerts are our gift to the community. Nothing lifts your spirits more than music and we hope people will spend some time with us this December doing just that."
On Saturday, December 13, at 8 p.m., Grammy nominated violinist Jenny Oaks Baker returns for a holiday performance at 8 p.m. at St. Anne's Church. "Carols by Candlelight" is a more intimate musical reflection on the season, and will include some of Ms. Baker's most popular holiday music, including "Ding Dong Merrily on High," which was an audience favorite at last year's concert. Mr. Green added this second holiday concert due to high demand for holiday concert tickets. "Ticket demand for our holiday concerts is really high," he says. "We added this show to our schedule to give more people a chance to have a wonderful holiday musical experience this year. I'm thrilled that Jenny can come back to join us."
Tickets for all Live Arts Maryland holiday concerts are available now online at http://www.liveartsmaryland.org. They may also be purchased at the Maryland Hall Box Office online or by calling 410-280-5640. The Student Rush free ticket program is in effect for "Carols by Candlelight" and "Messiah." Additional information on all guest artists and concerts can also be found at http://www.liveartsmaryland.org.
Live Arts Maryland, J. Ernest Green, Music Director, is one of the region's largest and most active non-profit arts organizations and is home to the Annapolis Chorale, the Annapolis Chamber Orchestra, the Annapolis Youth Chorus, Cantori and the St. Anne's Concert Series. It offers music education programs for singers of all ages, including the Student Rush free ticket program, a scholarship program for high-school music students and workshops for adults. The Annapolis Chorale is a resident company of Maryland Hall for the Creative Arts and is supported by the Maryland State Arts Council, the Arts Council of Anne Arundel County and the City of Annapolis.