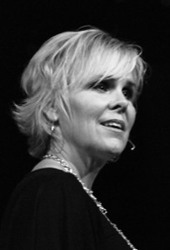 When the journey to your destiny begins it requires great courage; after a time, fear evaporates and you realize you have become bold.
Palo Alto, CA (PRWEB) September 11, 2014
Jenny Williamson is the founder and CEO of Courage Worldwide, an international, non-profit organization that works to build "Courage Homes" for children who have been rescued from sex trafficking worldwide. Jenny will be speaking at the Law Enforcement and Prosecutor Training meeting at Stanford University on September 11, 2014, discussing her upcoming book 'Do You Have The Courage to Be You?'. Williamson's book will be published by Next Century Publishing in Spring 2015, and 50 percent of the proceeds go to Courage Worldwide, located at http://courageworldwide.org.
Through her passion and professional leadership skills, Jenny has focused world attention on the problem of sex trafficking and has led the fight to provide safe homes for children who have been victims of this barbaric practice. She was awarded the FBI Director's 2010 Community Leadership Award and the 2011 Community Spirit Award by the Sacramento District Attorney. Jenny has also been invited to be part of the California Attorney General's Working Group on human trafficking, and was also asked to participate in Shared Hope International's Practitioners Working Group for their 2012 National Colloquium meeting in Washington, D.C.
The Law Enforcement and Prosecutor Training will be held on September 9, 10 and 11 in Palo Alto at Stanford University and is sponsored by the National Center for Missing and Exploited Children in Washington, DC. Jenny will be joining other professionals from across the country to train law enforcement officers and prosecutors on how to identify, rescue and care for vulnerable victims.
Her book offers gripping content, honesty and humor about finding true meaning in life by identifying the purposes for which people are created. Readers will learn how to find their own dreams in order to overcome fear and become who they were created to be. Jenny offers her own "pitifully ordinary" story of how she found her God-given purpose to help girls who are being trafficked into sex slavery. Her abolitionist vision has helped to create a safe place for these girls to grow and find themselves after suffering unimaginable horrors. Jenny chose to write the book so that others can find their purpose and live life to the utmost. For more information on Jenny's career and writing, see http://www.jennytwilliamson.com.
About Jenny Williamson:
A tireless crusader against sex trafficking, Jenny Williamson has worked with numerous national and international agencies to find ways to stop these devastating practices and is the founder of Courage Worldwide, an agency that provides homes for young people who were victims of sexual slavery. Her upcoming book 'Do You Have The Courage To Be You?' will be published by Next Century Publishing in Spring 2015.