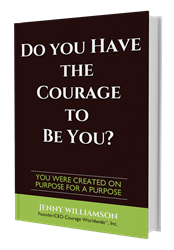 Don't just wander aimlessly and be satisfied with mediocre. Live with purpose and make a difference!
(PRWEB) March 25, 2015
Jenny Williamson is founder and CEO of Courage Worldwide, an international, non-profit organization that is building homes for children rescued out of sex trafficking. Her work is changing the lives of countless children all around the world, giving them the chance for a brighter future. She is now launching her first book, Do You Have the Courage To Be You? on April 7, 2015 through Next Century Publishing. Half of all of the proceeds from the sale of this book will go directly to Courage Worldwide in order to help rescue children from sex trafficking.
Do You Have the Courage To Be You? was the question that completely changed Jenny's life and led her to become the empowered woman that she is today. Courage for her is the key, and Jenny hopes that her book will help readers find that courage within themselves to go out and discover their water-walking, giant-slaying, history-making destiny. Jenny says, "Before time began, you were imagined, planned, and created for a specific and unique purpose. There is something you were created to do and if you don't do it, it will never be done. It is urgent you find the courage to be and do all you were created for. Someone is waiting for you to be you." Her book will help readers find their purpose and have the courage to pursue it. Those interested in this book can reserve a copy here - https://courageworldwide.wufoo.com/forms/reserve-your-copy-today/.
With the release of this book, Jenny is also hosting a myriad of events to celebrate the launch. All of the events will be accompanied with #NotInMyCity to promote awareness of Jenny's cause and her book.
The events will be kicked off on April 9 at Thunder Valley Casino and Hotel in Rocklin, California with a Night of Courage. There will be an expert panel, local dignitaries, and Jenny herself all discussing how best to stop the trafficking of children for sex. Books will be sold at the event and those attending will be able to meet Jenny have their copies signed. Tickets are available at http://www.courageworldwide.com/notinmycity as well as more information.
From there Jenny will be meeting with the Governor of Mississippi, Phil Bryant on April 13 before he makes the opening remarks at a special screening of the documentary In Plain Sight, a film about hope and freedom for survivors of sex trafficking in which Jenny is featured. This free screening will be held on April 16 at Broadmoor Baptist Church and will include an expert panel as well as a keynote speech from Jenny herself. Do You Have the Courage To Be You? books will also be sold and attendees will have the chance to meet Jenny and get their copies signed.
Jenny will then be hosting a book signing at Barnes and Noble in Ridgeland, Mississippi on April 18 from 1-3pm. Her final event will be a reception held on the same day at Jackson Country Club with friends, family, and leaders in the community, wrapping up an the amazing launch of 'Do You Have the Courage To Be You?'.
Jenny Williamson:
Jenny Williamson is the founder and CEO of Courage Worldwide and the author of Do You Have The Courage To Be You? published by Next Century Publishing. Courage Worldwide has opened homes for children who are victims of sex trafficking in Northern California , and Tanzania, Africa. She is an authority on the issue of child sex trafficking and the impact of this crime upon its victims. She is certified life coach and much sought after keynote and workshop speaker.