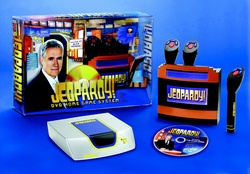 The Greatest Game Shows of All Time
LOS ANGELES (PRWEB) September 13, 2007
Hosted by the show's very own Alex Trebek, the Jeopardy! DVD game system uses exclusive interactive technology to recreate the live experience of America's Favorite Quiz Show(R). Up to three players compete in 20 original "episodes" and answer over 1200 challenging questions -- all read by Alex Trebek. Wireless buzzers allow players to navigate an interactive game board and respond to clues that appear on the TV screen.
Jeopardy!, Sony Pictures Consumer Products and MGA Entertainment worked together throughout the year-long production to ensure that the Jeopardy! fan was considered in each and every element of the game. In addition to Alex hosting, some of these elements include digitally recreating the set, players using individual buzzers and the voice of Johnny Gilbert introducing the game. Many categories also feature video clues by the fan-favorite "Clue Crew" -- a first for a Jeopardy! home game!
With real-time scoring and the chance to wager on Daily Doubles and Final Jeopardy!, the Jeopardy! DVD game is the next best thing to being an actual contestant on the show!
Jeopardy! Executive Producer Harry Friedman says, "We're so pleased that there is now a product available that integrates all the great elements of our television show - Alex, the Clue Crew, challenging and engaging game material, and head-to-head competition."
"We're thrilled to partner with Jeopardy! and Sony Pictures Consumer Products on this opportunity to integrate new and exciting technology into the Jeopardy! DVD home game system. Jeopardy! continues to be one of the most popular quiz shows in the world and this innovative game brings Jeopardy! home to everyone," said Isaac Larian, CEO of MGA Entertainment.
The Jeopardy! DVD Home Game System comes with exclusive ActivTap(TM) technology, an IR set-top game base, DVD control wire, AV cable and 3 wireless buzzers for 1-3 players. It comes pre-loaded with 20 complete games featuring all-original questions. Ages 8+. SRP: $59.99.
About Jeopardy!
Listed among the "The Greatest Game Shows of All Time" by TV Guide, Jeopardy! has been the #1-rated quiz show in syndication for 90 consecutive sweeps ratings periods and airs on stations representing more than 99% of the United States. With nearly 39 million viewers a week, Jeopardy! continues to attract an audience that out-delivers most network primetime series. Jeopardy! is produced by Sony Pictures Television, a Sony Pictures Entertainment Company. It is distributed domestically and internationally by CBS Television Distribution, a unit of CBS Corp.
About Sony Pictures Consumer Products
Sony Pictures Consumer Products (SPCP), a Division of Columbia TriStar Consumer Marketing (CTCM), is based in Los Angeles and handles the merchandising and branding efforts for some of the most recognized properties in film and television. Columbia TriStar Consumer Marketing is a division of Sony Pictures Entertainment (SPE). SPE is a subsidiary of Sony Corporation of America (SCA), a subsidiary of Tokyo-based Sony Corporation. SPE's global operations encompass motion picture production and distribution; television production and distribution; digital content creation and distribution; worldwide channel investments; home entertainment acquisition and distribution; operation of studio facilities; development of new entertainment products, services and technologies; and distribution of filmed entertainment in 67 countries. Sony Pictures Entertainment can be found on the World Wide Web at http://www.sonypictures.com.
About MGA Entertainment, Inc.
MGA Entertainment, a consumer entertainment products company headquartered in Van Nuys, California, manufactures innovative lines of proprietary and licensed products including toys and games, dolls, consumer electronics, home decor, stationery and sporting goods. The MGA family includes such brands as the multi award-winning Bratz(TM), Bratz Kidz(TM), Lil' Bratz(TM), Yummi-Land(TM), Rescue Pets(TM), and the recently acquired Little Tikes(R) brand. MGA has also acquired worldwide licensing rights for Zapf Creation(TM). For more information please visit: http://www.mgae.com http://www.bratz.com http://www.littletikes.com http://www.zapf-creation.com.