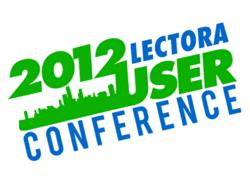 Gutsche's enthusiasm and ideas spark motivation and inspiration in a way that will leave a powerful impact on conference attendees
Cincinnati, OH (PRWEB) December 21, 2011
The 2012 Lectora User Conference announces Jeremy Gutsche, TV host, author, keynote speaker and Chief Trend Hunter at TrendHunter.com as the keynote speaker for the upcoming e-Learning conference May 22-24 in Chicago. Gutsche's keynote, "Exploiting Chaos: Sparking Innovation During Times of Change," will open this exciting e-Learning event with high energy and new ideas.
"As always, the opening of the 2012 Lectora User Conference kicks off with a jam-packed session full of innovation and fun that attendees won't want to miss," said Peter Bray, Chief Marketing Officer at Trivantis Corporation. "Gutsche's enthusiasm and ideas spark motivation and inspiration in a way that will leave a powerful impact on conference attendees."
As a unique thought leader, Gutsche is also a TV Host and award-winning author of "Exploiting Chaos - 150 Ways to Spark Innovation During Times of Change." Highly sought after for his original insights, Jeremy Gutsche proves how new businesses and products can thrive in ever-changing business environments.
For more information about Jeremy Gutsche, please visit: http://www.jeremygutsche.com/.
The eighth annual Lectora User Conference provides exclusive access to keynote presentations, dozens of e-Learning break-out sessions, and unique networking opportunities to share best practices and expertise for e-Learning development and implementation.
For more information about the Lectora User Conference, please visit: 2012 Lectora User Conference. Early bird conference pricing is available for $495 for those who register before December 31, 2011.
About The Lectora User Conference and Trivantis Corporation
The Lectora User Conference is a leading e-Learning industry event that attracts professionals from around the world to advance their development skills, increase their e-Learning knowledge and network with other e-Learning professionals. As the flagship product for Trivantis, Lectora® is the world's leading e-Learning software used by most Global 2000 companies in more than 125 countries and is offered in six languages. The Lectora line of e-Learning products includes Lectora Inspire, Lectora Online, Lectora Publisher and Lectora Integrator. Trivantis also produces Flypaper™, the leading Flash content creation platform that empowers users to create, edit, share, track and reuse high-impact Flash and video content. Snap! by Lectora® is the easy-to-use PowerPoint plug-in rapid e-Learning software that converts PowerPoint to Flash. Its sister product, Snap! EmpowerTM Flash interactions builder, enables anyone to create Flash content without having to know Flash programming. To round out the Trivantis family of products, CourseMill is the powerful and affordable learning management system (LMS). Headquartered in Cincinnati, Ohio, Trivantis Corporation also has offices in Boca Raton, Phoenix, Paris and London. Trivantis, Lectora, Flypaper, CourseMill, Snap! by Lectora and Snap! Empower are trademarks of Trivantis Corporation.
Website: http://www.Trivantis.com
Phone: 877.929.0188
Facebook: facebook.com/Trivantis & facebook.com/SnapByLectora
Twitter: twitter.com/Lectora
Blog: trivantis.com/blog & SNAPbyLectora.com/e-Learning-blog
###