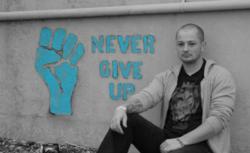 I knew this was not how I wanted to live. It was time to stop learning the hard way.
Tulsa, OK (PRWEB) December 15, 2012
When his self-destructive nature spiraled out of control and threatened to take his life, Jeremy Donovan found salvation and redemption through God, turning his life around to become healthy and successful. In his new book, "The Hard Way," Donovan shares his story and the lessons to be learned from it with his readers, helping to save them from having to learn the hard way, "The hard way is not the way to go. It's, well, hard. Even when things seem fun and you're getting away with it, that boulder can come and take you out."
When Donovan hit rock bottom, he saw no way off of the path that he was on, "I was at rock bottom and saw no way out… but I hadn't bargained for God's intervention!" After he attempted to OD on drugs and pills, God clearly spoke to his heart, urging him, "Quit trying and get help."
Donovan urges his readers who are on a similar path to ask God to help them change, "Right this moment, you can stop, pray, and ask God to search your heart. Then ask Him to help you change, and show you how to change. He is faithful and He will answer that prayer."
He reminds readers that God's message to each of us is, "'I love you so much. You are my favorite and I am proud of you. I want what is best for you. Trust in me to give you the desires of your heart.'" It is this message that will ultimately carry Donovan's readers through their trials and help them to find the grace that they need to see them through the long road back to the right path.
Making these choices helps readers to "close the doors to destruction" and rewrite their legacies. The Hard Way is a must-read for anyone who is struggling with their own "rock bottom" and "rut lifestyle."
About Jeremy Donovan
After a lifetime of struggling with inner demons, anger, and addictions, Jeremy Donovan encountered God in a rehab center and began the healing process. He has since gone on to become the youth pastor of Destiny Life church, a multi-campus church in the Tulsa, Oklahoma area. In 2008, he along with friend and ministry-partner, Matt Moore, founded"The SOZO Movement." Sozo is a series of testimonies from everyday people sharing the love and power of Jesus Christ. Jeremy is highly involved in Master's Commission, USA, the Bible College/Discipleship program he attended after coming out of a rehab program. His book, The Hard Way, has already received notable endorsements that include Matthew Barnett and The Dream Center, among others.
Jeremy Donovan's show airs on http://RevTV.com.
Follow Jeremy Donovan on Twitter @jeremy_donovan.