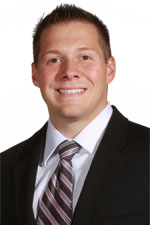 Awarded a CAQ in Orthopaedic Surgery
Lake Geneva, WI (PRWEB) March 19, 2014
Houtakker was awarded a CAQ in Orthopaedic Surgery, a distinction earned by meeting licensure, education and experience requirements and then passing an exam in the specialty. He is one of only 16 certified PAs in Wisconsin and 530 certified PAs nationally, to earn a CAQ since the program's inception in 2011.
Certified PAs are licensed and certified health care professionals who practice medicine with physician supervision and bring a breadth of knowledge and skills to patient care. Though their role in any particular workplace is determined in consultation with the supervising physician, certified PAs can take histories, conduct physical exams, diagnose and treat illnesses, order and interpret tests, counsel on preventative health care, assist in surgery, perform a variety of procedures and write prescriptions.
For more information about Houtakker's practice please call (262) 245-0535.