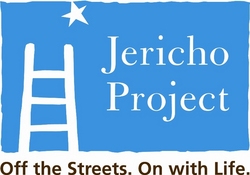 The conventional wisdom is that many tenants need life-long support; but we know that our culture of 'moving on' provides the motivation for each individual to achieve his or her goals
New York, NY (PRWEB) August 18, 2008
Tori Lyon, Executive Director of the Jericho Project, a national leader in ending homelessness, believes in the power of the future when helping people reclaim their lives as productive and independent members of the community.
In presentations across the country from the Minnesota Supportive Housing Conference to the National Alliance to End Homelessness, in Washington, DC, Lyon has shared Jericho's successful model for enabling formerly homeless individuals to acquire the skills and confidence they need to reach their highest potential. Jericho's three-tiered approach provides permanent supportive housing that provides a safe environment for healing and growth; comprehensive on-site counseling services to address financial, vocational, educational, medical, and emotional challenges, and an exemplary "Aftercare" program to encourage ongoing success.
"The conventional wisdom is that many tenants need life-long support; but we know that our culture of 'moving on' provides the motivation for each individual to achieve his or her goals," Lyon said.
Among Jericho "graduates" who have achieved independence over the last two years, 96 percent have moved into stable housing over the last two years; 66 percent found employment, with the remainder using government benefits; and only 5 percent experienced recividism, or relapse. To place this in the context of Jericho's 253 residents across five meticulously-managed housing projects, 25-30 percent graduate each year, with the average stay of 2-3 years.
This is despite the fact that 90 percent of Jericho's residents have histories of chronic substance abuse, and 15 percent with chronic mental illness.
"A recent survey of New York State providers* found that 40% of tenants were capable of moving on. We have found that given the housing, counseling, and ongoing support, many people are able to achieve stable income, live independently and reunite with their families," Lyon said.
Moreover, with permanent supportive housing a scarce and expensive commodity in New York and other urban areas, Lyon points out, most agencies and organizations would benefit by enabling some of its residents to set and meet goals for full independence. Underlying all services is support for and commitment to sobriety and recovery.
"We want our residents to learn to cope positively with the stresses and transitions of life, such as starting a job or reuniting with family," Lyon added.
Success is best illustrated through the lens of an individual's life. Donna came to Jericho with a 39-year drug and alcohol history. Yet she had also demonstrated her desire and ability to be function independently as she had raised two children and had a history of maintaining own apartment. During the time when she lived at Jericho from February 2004 to January 2006, she secured nursing certificate and today is employed as ICU Technician at major hospital.
Carolyn, a former crack addict, graduated from Jericho in 2002 and has worked tirelessly to succeed by attending college at night and working two jobs. With Jericho's help she has regained custody of children and her own apartment, and is still an active role model helping Jericho residents to re-enter society.
Jericho's holistic counseling treats the root causes of homelessness and helps rewire its residents' approach to life. From the moment an individual comes to Jericho, he or she meets a case worker and begins to think about themselves in a new way. An extensive assessment to discover the person's skills, challenges, aptitudes and interests, informs the comprehensive counseling he or she will receive at Jericho.
When a resident is ready to live independently, the Aftercare counselor helps develop a plan for independent living, including a detailed budget, housing options, and community resources such as health care, transportation and relapse prevention groups. The Aftercare counselor follows up with the graduate for two years and provides access to Jericho services for as long as necessary.
Jericho prides itself on following rigorous business practices to create these results-generating programs cost-effectively. Jericho's housing and extended services cost roughly $12,000 per person annually, less than half of the $25,000 for a city shelter bed; and roughly a quarter of the $40,000 for the city jail.
For more information on Jericho go to http://www.jerichoproject.org. To speak to Tori Lyon, contact Lynthia Romney at (914) 238-2145 or romneycom@aol.com.
*Supportive Housing Network of New York 2006 Survey
###