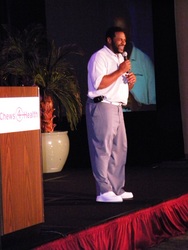 First and foremost, I love the product
Wilmington, NC (Vocus) October 7, 2009
Jerome Bettis recently endorsed Chews-4-Health, the world's first chewable super fruit, sea vegetable, antioxidant dietary supplement, at the company's National Events in Orlando, Fla., and Las Vegas, Nev. Bettis is a former professional football player and Super Bowl champion with the Pittsburgh Steelers.
Bettis, nicknamed "The Bus" in his playing days, shared the motivational story of his life and career, and also why he enjoys Chews-4-Health dietary supplements. Former Steelers teammate Tim Lester, "The Bus Driver," introduced Bettis to the supplements after discovering its positive effects on his own health.
"First and foremost, I love the product," said Bettis about the dietary supplements. "In pro football, your body takes such a beating, and I ended up with a lot of pain in my back and joints after retirement. Now my joints no longer hurt and I have increased energy, allowing me to exercise again. It's also convenient and tastes great."
Chews-4-Health is a unique product—it is a delicious, natural, chewable dietary supplement derived from 16 of the world's most nutrient-rich sources from land and sea. Additionally, it is able to be taken by adults, children and even pregnant women. Because it is chewable, it is easily absorbed by the body, while pills swallowed whole may only be partially absorbed. Unlike many liquid nutritional supplements, Chews-4-Health contains no artificial colors, flavors or unnatural preservatives.
Also unique is the company behind the product. Chews-4-Health is sold by independent distributors across the country, offering millions of people the opportunity to supplement their income by owning their own business.
"The business opportunity is great for people who are looking for another stream of revenue," said Bettis. At the company's National Events in September, he explained how he fell in love with the product before becoming a distributor himself.
"I knew the product was great but it is important for me to be part of a company that is stable, has a strong corporate infrastructure—led by COO Rob Hukezalie—and is able to handle massive future growth. After visiting its corporate headquarters, I saw Chews-4-Health had all that and more. I spent time with its CEO, Dr. David Friedman, and after seeing his sincere passion and vision for helping others, I knew this was a company I wanted to be part of."
Friedman, who is also the product formulator of Chews-4-Health, says the feeling is mutual.
"We are proud to have Jerome Bettis and Tim Lester on our team," said Friedman. "People across the country—myself included—look up to them because of their perseverance and triumph over adversity. With the wonderful testimonials Jerome and Tim have for product's efficacy, we hope it motivates others to start living a healthier lifestyle and discover the benefits of the product for themselves. "
About Chews-4-Health
Launched July of 2008, Chews-4-Health Inc. is headquartered in Wilmington, N.C., and its revolutionary product is now being sold in every major city in the USA and Canada. The company is led by CEO Dr. David Friedman, renowned chiropractic physician and doctor of naturopathy, and Health Expert for Lifetime Television's weekly show "The Balancing Act." The product Dr. Friedman formulated is a delicious, natural, chewable dietary supplement derived from 16 of the world's most nutrient-rich sources from land and sea. For more information, please visit the Chews-4-Health website, at http://www.chews4health.com/thebus.
###