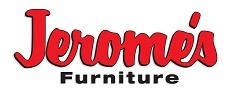 While others hunkered down or closed stores, we expanded into Southern California with two new locations and saw significant sales growth among all seven showrooms in our portfolio.
San Diego, CA (PRWEB) September 29, 2011
Jerome's Furniture (Jerome's) is proud to share industry news that points to the company's fast-paced growth, everyday low price strategy and expansion into Riverside County to earn its rankings as the second fastest growing furniture retailer nationwide. Furniture Today, known as the business newspaper of the furniture industry, issued the report based on 2009-2010 data. The article shows Jerome's outpacing growth percentages of major brands like Williams-Sonoma and serving as the only Southern California-headquartered business to be listed among major furniture industry leaders.
"Jerome's sticks with consumers," said Jerome's chairman Jerry Navarra. "We've earned trust with customers over our decades of service and under president and CEO Lee Goodman's leadership, we took some bold moves in 2009 with the addition of two new retail showrooms to our portfolio. While others hunkered down or closed stores, we expanded into Southern California with two new locations and saw significant sales growth among all seven showrooms in our portfolio."
"San Diego-based Jerome's—No. 56 on the Top 100—was the second fastest growing and placed in the Top 10 of two performance measures. The eight-store promotional to mid-priced retailer, known for its "Jerry's Price" everyday low price strategy, had the fourth greatest percentage sales increase—up 20.8% to $95.5 million in 2010...Last year, Jerome's opened two Southern California locations: a Murrieta furniture store and a Corona furniture store, ending the year with eight stores. That was enough to tie Regency Furniture for the seventh best percentage increase in store count (33.3%) and tie seven other retailers for 14th greatest net increase in units. Jerome's performed well in all categories with the 19th best increase in equivalent store sales (same-store sales up 6.3%) and the 25th greatest net sales volume increase—up $16.4 million." (Furniture Today, June 13, 2011)
Jerome's attributes much of its success to the company's firm commitment to its no nonsense sales approach that steers clear of gimmicky sales promotions and brings everyday value, known as "Jerry's Price." Goodman noted, "Consumers are watching every penny and we're able to make their dollars go farther based on our low price strategy. When we expanded into a new market with two retail locations, customers in the area took a liking to our approach while our existing locations saw an uptick in overall sales."
ABOUT JEROME'S:
Founded in 1954, Jerome's Furniture is a family-owned and operated business headquartered in San Diego, Calif. with seven showrooms and six clearance centers located across Southern California and an e-commerce website providing avenues for consumers to enjoy online furniture viewing and buying. Regarded fondly by generations of families, Jerome's is known as the best furniture retailer for value ("Jerry's Price") and a wide selection of products. The company has earned numerous awards including "Retailer of the Year" by the Western Home Furnishings Association (WHFA) and Honoree of the San Diego National Bank Founders Award along with many other business recognitions as the "best" furniture store. Jerome's was honored to be ranked by Furniture Today as the second fastest growing furniture retailer in the U.S. for 2009-2010 among 100 nationally recognized brands. Customers know they can count on Jerome's to make it easy to shop for furniture with service support including interior design, same-day delivery and financing. More information can be found by visiting http://www.jeromes.com, http://www.facebook.com/JeromesSanDiego, or twitter @JeromesSanDiego.
# # #