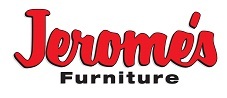 Located at Village Walk Plaza, 24410 Village Walk Place Murrieta,
CA and includes a Jerome's Furniture, Dream Shop, and Jerry's Bloopers store. Regular hours for all 3 locations are Mon - Fri 10 a.m - 9 p.m., Sat 10 a.m. - 9 p.m., Sun 10 a.m. - 8 p.m.
San Diego, CA (PRWEB) January 09, 2013
Jerome's Furniture is pleased to announce the grand opening of its 1st Furniture Marketplace in Murrieta, CA. The Jerome's Marketplace will offer 3 specialty furniture stores in one convenient location.
Today's time-strapped consumer doesn't have the luxury of taking hours of their precious free time to drive around town to multiple locations. This new concept allows consumers to "one-stop shop" for all their home needs, including design services in one place.
The newly expanded flagship Jerome's Furniture store in the Marketplace offers stylish, value-priced furniture to families that want to shop in an environment with no phony sales or gimmicks. Jerome's hasn't had a sale since 2007 so families don't have to worry if they buy on the right weekend or wait for President's Day. Customers get the value and expertise that being in the business for 58 years provides each and every day at Jerome's Furniture. No coupons required. The recent expansion allows for an even greater selection of styles than before.
The new Dream Shop at the Jerome's Marketplace brings true expertise and a relaxed shopping experience when families decide it's time for a new mattress. One third of all adults don't sleep well. Jerome's certified sleep specialists will be stationed at this store full-time to educate consumers on how to get a better night's sleep. The Dream Shop will be stocked with brand names such as Serta and Simmons, but will also carry the Jerome's Furniture private label brand. The private label brand is Jerome's best selling line. On a specification comparison these mattresses are superior to most big brands, manufactured in the United States, and there's no middleman to mark them up. No sense paying for an expensive mattress label no one sees. In the San Diego area 25% of all mattresses purchased are bought at a Jerome's Dream Shop.
Jerry's Bloopers is the 3rd store in the Marketplace. Chairman of Jerome's, owner, and staple on TV; Jerry Navarra says, "The Blooper store is where we get rid of furniture that makes me say "uh-oh". We call them "Bloopers". Sometimes a manufacturer makes too many chairs and we get a great deal. Sometimes things get nicked or scratched in the warehouse, and sometimes I just get things wrong. It's a great place for a customer to come and search out great deals. It's a bit of a treasure hunt and merchandise changes on a daily basis."
Jerry Navarra continues, "We are excited to announce this expansion. We've been active in the Murrieta market since 2009 with amazing results. It seems the community really responds to our styles, levels of service, and pricing strategy. It was a natural evolution to offer more options to the area."
The plaza is located at Village Walk Plaza, 24410 Village Walk Place Murrieta, CA and includes a Jerome's Furniture, Dream Shop, and Jerry's Bloopers store. Regular hours for all 3 locations are from Mon - Fri 10 a.m. - 9 p.m., Sat 10 a.m. - 9 p.m., Sun 10 a.m. - 8 p.m.
Free coffee, affectionately known as Jerry's Java, fresh baked cookies, and free WiFi are available daily in every Jerome's store. Jerome's will be celebrating the opening all month long.
ABOUT JEROME'S:
Founded in 1954, Jerome's Furniture is a family-owned and operated business headquartered in San Diego, Calif. with eight showrooms and seven Bloopers locations in Southern California. Regarded fondly by generations of families, Jerome's is best known for value ("Jerry's Price") and a wide selection of products. The company has earned numerous awards including Retailer of the Year by the Western Home Furnishings Association (WHFA) and Honoree of the San Diego National Bank Founders Award along with many other business recognitions as the "best" furniture store. Furniture Today recently ranked Jerome's as the second fastest growing furniture retailer in the U.S. amongst 100 nationally recognized brands. Customers know they can count on Jerome's to make it easy to shop for furniture with service support including interior design, same day delivery and financing. More information can be found by visiting http://www.jeromes.com, @JeromesFurn on twitter, or JeromesFurniture on Facebook.