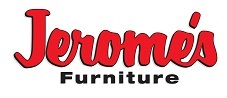 Jerome's Signature-PEDIC will be a game changer in our trade area thanks to our ability to bring the best product at the best price.
San Diego, CA (PRWEB) November 14, 2011
Jerome's Furniture (Jerome's) is proud to announce "Jerome's Signature-PEDIC," its highly competitive product line of five memory foam mattresses that combine the best available technologies and the company's commitment to everyday low prices. Developed by Mark Navarra, Bedding Merchandiser, Jerry Navarra, Chairman, and Ali Tommalieh, Bedding Specialist, the Jerome's team created the Signature-PEDIC line with sought-after features that "one-up" the marketplace.
Top product differentiators include a "cool touch" ventilation system which allows air to run freely within the mattress making it 12 times cooler than the leading provider of memory foam mattresses; a new molecular formulation provides a faster "bounce back" to conform better to various body shapes; and exceptional pricing that stands at 30 to 40 percent cheaper than the competition. The line ranges from $699 to $2299 for a queen-size mattress set (including foundation) with product variances to accommodate different body types, sleep styles, and budgets.
"Memory foam mattresses are the fastest growing category in the bedding industry, and their unique feel is really catching on," said Mark Navarra. "As San Diego's largest mattress provider, we get continual feedback from customers, our sales staff, and our service department which allows us to make critical improvements that keep our designs ahead of the marketplace and more competitive."
Jerome's Signature-PEDIC product line boasts superior technology with an exclusive three-zone-firmness design; "cool touch" memory foam providing airflow and breathability; shape-conforming pressure relief compression gradations; a custom memory foam formulation made with a mix of natural and manufactured products; and other features. Price points for a queen-size mattress set are listed as follows with firmness index in parenthesis. The firmness scale ranges from 1, the softest, to 9, the most firm:

Stratus, $1299.99 (7)
Serene, $1799.99 (5)
Tranquil, $2299.99 (4)
Most Economical Options:
Premier, $699.99 (3)
Royale, $899.99 (4)
"We're just plain competitive creatures," said Jerry Navarra. "It feels good to work closely with our manufacturers and introduce a superior mattress line to our customers at market-beating prices. When we put our name on it—that sets the line apart. Jerome's Signature-PEDIC will be a game changer in our trade area thanks to our ability to bring the best product at the best price."
Besides having unique products, Jerome's employs a different sales approach. "My certified bedding experts are trained to fit you to the proper mattress for your size and sleep position," says Ali Tommalieh. "Fit is more important than price. When we match you up with the correct, high quality, Jerome's Signature mattress, you just hit the bull's eye." In addition to Jerome's Signature-PEDIC, Jerome's also markets its high quality traditional pocketed spring mattress line under the Jerome's Signature label, and carries a variety of product lines that carry their stamp of approval including Jerome's Dreamscape Mattresses, Serta, Beautyrest, and Aireloom.
ABOUT JEROME'S FURNITURE:
Founded in 1954, Jerome's Furniture is a family-owned and operated business headquartered in San Diego, California with seven showrooms and six clearance centers located across Southern California and an e-commerce website providing avenues for consumers to enjoy online furniture viewing and buying. Regarded fondly by generations of families, Jerome's is known as the best furniture retailer for value ("Jerry's Price") and a wide selection of products. The company has earned numerous awards including Retailer of the Year by the Western Home Furnishings Association (WHFA) and Honoree of the San Diego National Bank Founders Award along with many other business recognitions as the "best" furniture store. Jerome's was honored to be ranked by Furniture Today as the second fastest growing furniture retailer in the U.S. for 2009-2010 among 100 nationally recognized brands. Customers know they can count on Jerome's to make it easy to shop for furniture with service support including interior design, same day delivery and financing. More information can be found by visiting http://www.jeromes.com, http://www.facebook.com/JeromesSanDiego, or Twitter @JeromesSanDiego.
###