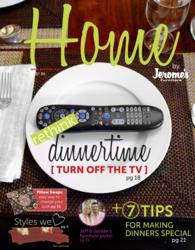 We know that people like to relax, be inspired, and be entertained. Home by Jerome's manages to do all this while dispensing easily applicable advice on home decorating.
San Diego, CA (PRWEB) October 11, 2012
Jerome's Furniture (Jerome's), a family-owned furniture retailer recognized for its everyday low prices, will mail its latest 52-page magazine to over 150,000 families this week. Titled Home by Jerome's, the magazine is intended to provide readers with a wealth of tips and expertise in transforming their house into a home.
"This magazine is the perfect venue for opening up larger conversations with families in our own community," said Jim Navarra, vice-president of Jerome's. "We know that people like to relax, be inspired, and be entertained. Home by Jerome's manages to do all this while dispensing easily applicable advice on home decorating."
Several of the topics covered by Home by Jerome's will delve not only into home décor, but everyday life as well. One example is the forthcoming article,"Why Dinner Time Matters." This in-depth commentary exposes how human relationships thrive through the simple act of eating a meal together at the dinner table and will supply readers with thought-provoking research, such as the fact that the average child spends only 38.5 minutes per week having meaningful conversation with their parents (AC Nielson). In presenting such articles, Home by Jerome's showcases the importance of living spaces that encourage social interaction among family members. Other stories include: "What's Hot in the Bedroom," "Tips and Tricks for building a Media Room," "Outdoor Living Trends," and even playful features such as "Famous People that Slept in Bunk Beds."
This is the second printing of Home by Jerome's. The first issue of the magazine, distributed in Nov. of last year was received with such enthusiasm that Jerome's tripled the print run for its second edition. Now, the company is ramping up to produce two issues in 2013.
"It's exciting to have a format in which we can dig deep into the topic of making a house a home," said Navarra. "We find that people are hungry for information like this, and after 58 years in the business, we know what works and where trends are going. We've simply decided to share what we know."
Jerome's will have free copies of Home by Jerome's at all of their nine locations throughout Southern California, while supplies last. Customers can visit the stores or go to http://www.jeromes.com (available Fri., Oct. 12) to view the interactive digital version.
A corresponding app will be released with updated information within the next thirty days.
ABOUT JEROME'S:
Founded in 1954, Jerome's Furniture is a family-owned and operated business headquartered in San Diego, Calif. with eight showrooms and six clearance centers located across Southern California, and an e-commerce website providing avenues for consumers to enjoy online furniture viewing and buying. Regarded fondly by generations of families, Jerome's is known as the best furniture retailer for value ("Jerry's Price") and a wide selection of products. Recognized with numerous awards, including Retailer of the Year by the Western Home Furnishings Association (WHFA) and Honoree of the San Diego National Bank Founders Award along with many other business recognitions as the best furniture store, customers know they can count on Jerome's to make it easy to shop for furniture with service support including interior design, same-day delivery and financing. More information can be found by visiting http://www.jeromes.com.
Additional Information:
(Media First Look Link of Jerome's Home in digital format – click to read)
Press Hard Copies Available