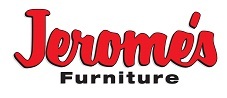 Customers across Southern California are invited to celebrate Jerome's expansion into the City of Rancho Cucamonga, including free food, giveaways, music, and fun for kids.
San Diego, CA (PRWEB) April 05, 2012
Calendar Advisory:
WHAT:
Customers across Southern California are invited to celebrate Jerome's expansion into the City of Rancho Cucamonga on Saturday, April 14 and Sunday, April 15.
Rancho Cucamonga Grand Opening Weekend:
The weekend festivities will be kicked-off at 10 a.m. at the new 41,000 square foot showroom located at 11750 East 4th Street in Rancho Cucamonga.
The doors will be opened to customers with greetings from Jerry Navarra, chairman of Jerome's and third-generation family member of the company along with his sons Mark Navarra, director of operations and Jim Navarra, director of marketing. Jerome's holds a firm commitment to a no-nonsense sales approach, which rejects gimmicky promotions to bring everyday value known as "Jerry's Price." The third-generation family members continue the company's tradition of excellence with an entrepreneurial spirit demonstrated in this grand opening. Lee Goodman, president and CEO of Jerome's along with elected officials and community members will also be on site to commemorate the grand opening.
Thanks to Barbeques Galore, from 11 a.m. – 4 p.m. on Saturday, April 14, the community is invited to a barbeque providing free food and drink to attendees while supplies last.
Families are invited to attend and bring their kids for a visit with clowns providing free face painting and animal balloons from 11 a.m. – 3 p.m. on Sunday, April 15.
Easily accessible, Jerome's Rancho Cucamonga is located northwest of the interchange of interstates 15 and 10, and is expected to bring customers from the City of Rancho Cucamonga as well as surrounding areas of Ontario, Bloomington and Fontana. The new showroom neighbors Costco and is located across the street from Ontario Mills.
Storewide Fun:
All of the showrooms will be doing giveaway drawings throughout the weekend and DJs from local radio stations will make appearances and play music for customers to enjoy. Some of the featured prizes include a classic queen adjustable power base with a queen Dreamscape mattress; a queen Ocean euro top mattress set; a Serta queen holloman euro top mattress set; a Tech Grill from Barbeques Galore; a hand-carved teak airplane from Carl Latchman Aviation, a Visa gift card from SCE Federal Credit Union, a $50 Costco gift card, dinner for two from Chili's, and more.
WHEN:
Saturday, April 14 from 10 a.m. to 10 p.m.
Sunday, April 15 from 10 a.m. to 9 p.m.
WHERE:
Jerome's Rancho Cucamonga, 11750 East 4th Street, Rancho Cucamonga, CA
HOW:
Weekend festivities are open to the public at all of Jerome's showrooms across Southern California. For questions, contact Kristi Hilliard at (866) 633-4094 x 8990 or Kristi.hilliard(at)jeromes.com.
ABOUT JEROME'S FURNITURE:
Founded in 1954, Jerome's Furniture is a family-owned and operated business headquartered in San Diego, Calif. with eight showrooms and six "Jerry's Bloopers" clearance centers located across Southern California, and an e-commerce website providing avenues for consumers to enjoy online furniture viewing and buying. Regarded fondly by generations of families, Jerome's is known as the best furniture retailer for value ("Jerry's Price") and a wide selection of products, including dining furniture, leather couches, and even San Diego patio furniture. The company has earned numerous awards including Retailer of the Year by the Western Home Furnishings Association (WHFA) and Honoree of the San Diego National Bank Founders Award along with many other business recognitions as the "best" Southern California/San Diego furniture store. Jerome's was honored to be ranked by Furniture Today as the second fastest growing furniture retailer in the U.S. for 2009-2010 among 100 nationally recognized brands. Customers know they can count on Jerome's to make it easy to shop for furniture with service support including interior design, same day delivery and financing. More information can be found by visiting http://www.jeromes.com, http://www.facebook.com/JeromesSanDiego, or twitter @JeromesSanDiego.