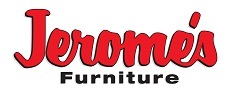 We're incredibly thankful for their business and an event like this is one way we get to say thanks.
San Diego, CA (PRWEB) November 15, 2011
Jerome's Furniture (Jerome's) is celebrating its 57-year anniversary with a store-wide event that intends to "roll out the red carpet" for customers at all of the company's seven showroom locations. Attendees will be treated to music and entertainment provided by local radio stations, visits from food and ice cream trucks, on-site appetizers and drinks, and prizes from local businesses. Attendees will be greeted by staff dressed in their red carpet best and will receive a complimentary copy of Home, a new magazine created by Jerome's. The magazine features four key ideas: to decorate, relax, eat, and sleep.
A family-owned business founded in San Diego, California, Jerome's will be giving away dozens of prizes at each of its showrooms. Every one of Jerome's showrooms will be giving away signature 57th anniversary mattresses along with prizes from other businesses represented in the neighborhoods they serve. From a $100 gift certificate to Cohn Restaurant Group in San Diego to a Zipline ride at Skull Canyon in Corona, to a Nikon D3100 camera valued at $450 in Murrieta, the event shares the spotlight with community restaurants, destinations and retailers. There will also be giveaways of e-grills from Barbeques Galore and terrific items and concert tickets from local radio stations.
"Our customers mean everything to us," said Jerry Navarra, chairman of Jerome's. "We're incredibly thankful for their business and an event like this is one way we get to say thanks."
WHEN: Jerome's 57th Anniversary Customer Appreciation Event
Saturday, Nov. 19 from 10 a.m. to 10 p.m.
Sunday, Nov. 20 from 10 a.m. to 6 p.m.
WHERE: All of Jerome's locations will be rolling out the red carpet for the company's Customer Appreciation Event including San Diego, San Marcos, Scripps Ranch, Chula Vista, El Cajon, Corona and Murrietta showrooms. For a full roster of locations, visit http://www.jeromes.com. Food, drinks and giveaways will be available on a first-come, first-served basis as available.
ABOUT JEROME'S FURNITURE:
Founded in 1954, Jerome's Furniture is a family-owned and operated business headquartered in San Diego, California with seven showrooms and six clearance centers located across Southern California and an e-commerce website providing avenues for consumers to enjoy online furniture viewing and buying. Regarded fondly by generations of families, Jerome's is known as the best furniture retailer for value ("Jerry's Price") and a wide selection of products. The company has earned numerous awards including Retailer of the Year by the Western Home Furnishings Association (WHFA) and Honoree of the San Diego National Bank Founders Award along with many other business recognitions as the "best" furniture store. Jerome's was honored to be ranked by Furniture Today as the second fastest growing furniture retailer in the U.S. for 2009-2010 among 100 nationally recognized brands. Customers know they can count on Jerome's to make it easy to shop for furniture with service support including interior design, same day delivery and financing. More information can be found by visiting http://www.jeromes.com, http://www.facebook.com/JeromesSanDiego, or Twitter @JeromesSanDiego.
###