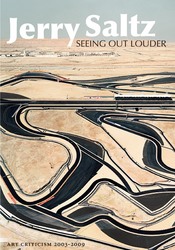 Now that the money is gone, how might art and the art world put their houses in order?
Lenox, MA (PRWEB) October 26, 2009
Perhaps it was his recent deciphering of President Obama's selection of contemporary art for the White House walls (New York Magazine, 10/9/09) or his quick rebuttal to Fox News' Glenn Beck's Art History "lesson" on Rockefeller Center (Huffington Post, 9/4/09) or the way he used his five thousand Facebook fans to order MoMA's chief curator Ann Temkin to justify and rectify the lack of art by female artists on the walls (Tyler Green's Modern Art Notes/Art Journal, 7/6/09), Jerry Saltz is broadening the nation's interest in art.
Jerry Saltz's latest title, Seeing Out Louder, to be published by Hard Press Editions at the end of October, picks up in 2003, shortly after the wrenching contested 2000 election, the attacks of September 11, and the ramping-up of the Iraq War. Seeing Out Louder brilliantly reveals the rise of the hyper art market and the dark politics that form the background of this bright period then tracks the collapse and fall of this market and those politics. Throughout it all, Saltz writes about some of the best contemporary art of a generation.
His tools include an unsparing eye, a deep love of the art world, respect for artists, self-deprecating humor, sweet skepticism, and one of the easiest writing styles in criticism. Tracking the most recent all-out orgy of art and money, Saltz considers its effect on art and asks, "Now that the money is gone, how might art and the art world put their houses in order?" Don't miss the twists and turns as he sorts out the answers.
Follow Saltz through Chelsea galleries and uptown museums, alternative spaces and out-of-the-way holes-in-the-wall. He writes about famous artists and fallen stars, emerging talent and diamonds-in-the-rough. He covers art fairs, auctions, museum politics, and art world bad behavior. This "tell-it-like-it-is" collection is a must-have reference to the art world.
If Seeing Out Louder has a credo it is, "Art First. All Else Follows."
Senior Art Critic at New York Magazine since 2007, and previously at the Village Voice (1998-2007), Jerry Saltz is a two-time Finalist for the Pulitzer Prize for Criticism. Recently named to Art Review magazine's "Power 100" for 2009, he also currently teaches at Columbia University, The School of the Art Institute of Chicago, and The School of Visual Arts. He has written for Frieze, Art in America, Parkett, Flash Art, Time Out New York, and many others. In 1995, he was the sole advisor for the Whitney Biennial. He lives in New York City.
Hard Press Editions, in Lenox, Massachusetts, has published Artist Monographs, Art Criticism, Art Theory, Fine Art Prints, Fiction and Poetry since 1992. Seeing Out Louder is the latest title in Hard Press Editions' Mission Critical Series. Jerry Saltz joins authors and art critics such as Raphael Rubinstein, Eleanor Heartney and Irving Sandler who are re-defining the roll of art-criticism through value judgements and a more subjective writing style. The publication of Seeing Out Louder also marks the launch of a new initiative by Hard Press Editions to engage its content with new media such as search engines and social networks.
The Seeing Out Louder Book Launch Party hosted by Hard Press Editions and X-Initative will be held on Wednesday, November 4, 2009 from 6-8PM at X-Initiative, 548 W. 22nd Street, NYC. Jerry Saltz will be in attendance and signing books.
Seeing Out Louder / Book Details:
6x9", 420 pages
ISBN-10: 1555953182
ISBN-13: 978-1555953188
Publication Date: October 2009
Distributed to the trade by National Book Network, Inc.
###