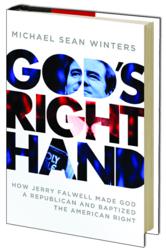 "A must-read book for people who want to know more about the life and times of Reverend Jerry Falwell - an unorthodox Southern preacher that changed the dynamics of religion and politics in America for decades."
- Larry Flynt
San Francisco, CA (PRWEB) January 17, 2012
Jerry Falwell is perhaps best-known for founding the Moral Majority and filing suit against pornographer Larry Flynt. What many Americans don't realize, however, is the profound and lasting impact that Jerry Falwell has had on American politics.
Now, in this fair and fascinating account God's Right Hand: How Jerry Falwell Made God a Republican and Baptized the American Right (HarperOne; January 2012; Hardcover; $28.99), Michael Sean Winter unpacks the key moments in the life of a man whose legacy continues to shape the religious and political climate in the United States—an effect that is abundantly evident as the 2012 presidential election draws near.
From the early years of Falwell's career as a preacher to his founding of the first mega-church and later a Christian university, Falwell initially sought to spread the gospel of Jesus. He broke from his aloof stance from politics only when he witnessed the nation falling into what he considered a steep and pervasive moral decline exemplified by legalized abortion and a push for gay rights. With boundless enthusiasm and charm, Falwell set about educating fundamentalists about politics and mobilized them into the largest and most organized constituency in the contemporary Republican Party. (Winters, God's Right Hand.)
Falwell continued his strategy by turning his main concerns into central tenets of the GOP platform and by introducing the language of orthodoxy into American politics. Indeed, we hear his words echoed today in Sarah Palin's hallmark rhetoric, and his fingerprints cover the emergence and success of the Tea Party. (Winters, God's Right Hand.)
God's Right Hand deftly shows that no matter how critical one may be toward Falwell's ideology, he lived one of the most consequential lives of any American in the last half of the 20th century. Despite the contradictions that punctuate Falwell's career, he can't help but be admired for the perseverance and sheer energy he brought to the task of changing the perception of what it means to be a Christian in America and the landscape of politics in the United States.
ABOUT THE AUTHOR
Michael Sean Winters is the author of Left at the Altar: How Democrats Lost the Catholics and How Catholics Can Save the Democrats. He has written for publications including The New Republic, the New York Times, Washington Post, Washingtonian, Slate.com, and America, and is a regular contributor to the National Catholic Reporter and The Tablet (London). He lives in Washington, D.C.
ADVANCE PRAISE FOR GOD'S RIGHT HAND
"An illuminating biography …" —Kirkus Reviews
"In this engaging, well-balanced sociological rather than personal biography, an excellent journalist emphasizes the two major efforts of Falwell's public career: to build a church […] that would exemplify Christian community and evangelism, and to defend traditional morality in America by means of politics." –Starred Review; Booklist
"Jerry Falwell plowed the field that the Tea Party is flourishing in today. In this resonant and revealing biography, Michael Sean Winters captures the man, the political movement he created, and the beliefs that continue to sustain it now. Falwell matters. Winters explains why." —George Stephanopoulos
"A must read book for people who want to know more about the life and times of Rev. Jerry Falwell—an unorthodox southern preacher that changed the dynamics of religion and politics in America for decades."
—Larry Flynt, CEO of Larry Flynt Publications
"Jerry Falwell has been written about by liberal critics and religious admirers. In Michael Sean Winters, an important subject has found the perfect biographer: a progressive critic whose own religious faith allows him to understand Falwell's commitments from the inside and a gifted writer who can approach the aspirations of Falwell's followers with empathy. God's Right Hand is important contribution to our self-understanding as Americans and to our ongoing debate over the role religion in our public life."
—E. J. Dionne Jr., author of Souled Out: Reclaiming Faith and Politics After the Religious Right
"A fascinating and insightful look at the personality and mindset of the man most responsible for driving white evangelicals out of a quiet retreat from politics and into the arms of the Republican Party. To understand what inspired Jerry Falwell religiously and politically is to understand what continues to shape powerful forces in the Republican Party and Tea Party movement today. This timely examination offers fresh insights into the enduring influence of the Religious Right heading into the 2012 elections and beyond."
— Rev. Jennifer Butler, Founding Executive Director, Faith in Public Life
GOD'S RIGHT HAND
How Jerry Falwell Made God a Republican and Baptized the American Right
By Michael Sean Winters
HarperOne, an Imprint of HarperCollinsPublishers
January 17, 2012│Hardcover│448 pp.│$28.99│ISBN: 978-0-06-197067-2
###