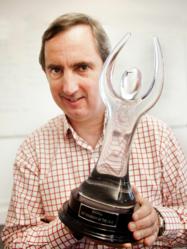 Killorglin, Ireland (PRWEB UK) 4 October 2011
The prestigious Internet Awards recognize the best of Ireland's achievements in the online world.
Speaking at the awards ceremony, Irish Internet Association Chair Maeve Kneafsey said that Kennelly "very quickly grasped the potential of the internet" with his previous companies Stockbyte and Stockdisc which he started in 1996. "That clever online business, which started in Ireland, went on to be a global leader in online content and was eventually acquired for $135million in 2006".
"But a true entrepreneur, a net entrepreneur, a Net Visionary is diseased because they can't leave well enough alone. The children in Fatima had only one vision. Jerry Kennelly has had two and he's set off to make his second vision happen, investing his reputation and money in another project that is destined for world greatness," she added.
Jerry Kennelly said that the award was a "wonderful recognition of the Tweak.com vision to help business owners throughout the world get access to Madison Avenue standards of design for print – faster, better and cheaper. The Tweak.com vision is to democratize design making it accessible."
Tweak.com has also been been honored with an Editor's Choice award by PCMag.com since it launched in February 2011.
For further information, contact Caitriona Sayers at Tweak.com +353 (86) 809 8091 caitriona(at)tweak(dot)com
About Tweak.com
Tweak.com allows businesses to take control of all their print marketing needs from logos and business cards to flyers and newspaper advertising. Whether it's glossy brochures or large format displays you need, you'll be able to choose from nearly a million designs customized for the needs of hundreds of business types. It's easy to download your design to print locally or Tweak will print it and ship to you.
Tweak is headquartered in Killorglin, Co. Kerry, Ireland with offices in Dublin, Ireland and New York City. The company was founded in 2007 and launched in February 2011. It is privately held.
About Jerry Kennelly
Jerry Kennelly founded Stockbyte and Stockdisc, two companies based in Tralee, Ireland that captured 10% of the global royalty-free stock photography market in ten years. In April 2006 both companies were sold to Getty Images (formerly GYI) for a consideration of $135 million. Kennelly's companies produced the highest pro-rata profit and profitability per employee in this worldwide industry.
Kennelly, a photojournalist who started his first business as a photographic news and picture agency in 1981, has been honored by the Deloitte Fast 50 Awards and was selected as the Ernst & Young Emerging Entrepreneur of the Year in 2005. Stockbyte is also a former winner of the DHL Exporter of the Year Award. He was awarded and honorary fellowship for his contribution to Entrepreneurship in 2009 and was awarded an honorary doctorate in economics by the University of Limerick in September 2010.
In addition to his work at Tweak.com he has co-founded a number of social entrepreneurship projects in Ireland including the Young Entrepreneur Programme, The Junior Entrepreneur Programme and Endeavour, Ireland's leading accelerator program.
About the Irish Internet Association
The Irish Internet Association is the professional body for those conducting business via the internet from Ireland. It is one of the driving forces supporting international online business development for Irish businesses.
The IIA is a non-profit business association. Members of the association includes suppliers of Internet services and products as well as those using the medium for communication, marketing and commerce.
###