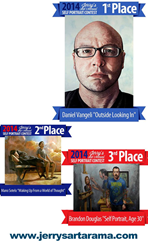 We had an amazing turn-out this year. Our artists and supporters continue to go above and beyond with their submissions.
Raleigh, NC (PRWEB) April 22, 2014
Jerry's Artarama, a pioneer and industry leader in the field of discount art supplies and materials is pleased to announce the winners of its Second Annual Self Portrait Contest. Open to artists everywhere, from January 6, 2014 - April 6, 2014, over eleven thousand contestants entered their self portrait in the medium of their choice to the Jerry's Artarama contest hosted through Facebook.
"We had an amazing turn-out this year. Our artists and supporters continue to go above and beyond with their submissions," said Mike Marchetta, director of marketing for the Jerry's Artarama Online Division, "I just want to say a big congratulations to our winners and we hope to see even more entries in next year's contest!"
This year, 1156 artists entered in their self-portraits in mediums such as acrylics, oils, watercolor paints, pastels, colored pencils and even mixed media collage. Entries went through two rounds of judging. Thirty portraits were chosen through voters on Facebook and another thirty entries were chosen based on merit by Jerry's Artrama. All sixty finalists were then reviewed by a jury of professional artists who decided the first, second, and third place winners as well as thirty honorable mentions.
The prizes for the contest featured a Grand Prize of a two thousand dollar shopping spree at the Jerry's Artarama Online Superstore; an $850 eGift Card for Jerrysartarama.com and the third place prize was a $400 eGift Card for Jerrysartarama.com. The thirty honorable mentions also each received a twenty-five dollar eGift Card redeemable at Jerrysartarama.com.
In this year's contest, first place was awarded to artist Daniel Vangeli for his portrait "Outside Looking In" in watercolors.
Second place was awarded to Mano Sotelo for "Waking Up From a World of Thought" in oils.
Third place was awarded to Brandon Douglas for "Self Portrait, Age 30", oils on wooden panel.
Winning Self Portraits can be viewed at the Jerry's Artarama Facebook Page and on the 2014 Jerry's 2nd Annual Self Portrait Contest Page.
The contest will return next year with more big prizes from Jerry's Artarama, which hosts numerous sponsored contests yearly. Information on contests can be found online on Jerry's website.
About Jerry's Artarama:
Jerry's Artarama is a national retailer of arts materials and supplies headquartered in Raleigh, NC, with 15 Superstore locations throughout the United States and an online store. Jerry Goldstein opened the first Jerry's Artarama in Long Island, NY in 1968 with the goal of offering quality discount-priced products to established artists. Jerry believed in treating customers like family, a tradition that still continues. Today, Jerry's offers more than 70,000 top-quality art materials and supplies at direct savings- as much as 75 percent off traditional retail on products from the industry's leading art manufacturers, as well as Jerry's own exclusive product lines via the online retail store, art supply catalog and Jerry's Artarama Superstores. In addition, Jerry's Artarama serves as an artist resource by offering instructional workshops, new art supply demos and special art-related events, including the Art of the Carolinas Tradeshow, and annual event held in Raleigh.
For more information, visit http://www.jerrysartarama.com/art-contests/create-your-color/2014.html.
Website:
http://www.jerrysartarama.com
Contact:
Michael Marchetta
919-878-6782