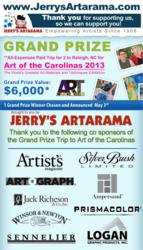 Even though it is our 45th anniversary celebration, we are celebrating the artist and all they do. We are truly thankful for their support in us.
(PRWEB) April 23, 2013
Art supply leader thanks its loyal customers with a weeklong event full of discounts, giveaways, and a Grand Prize drawing.
This week, popular art material supplier Jerry's Artarama celebrates its 45th anniversary by hosting a weeklong Artist Appreciation Event designed to rewards its customers and supporters.
Jerry's Artarama, a pioneer in discount art supplies, has been providing artists with fine art materials at steep savings since 1963. Family-owned and operated for the whole life of the business, Jerry's prides itself on putting the needs of the artist first: be it through lowering prices on art supplies, scouring the globe for innovative new products, offering promos, coupons and free shipping, and hosting a score of free artist resources including educational videos, art and trade shows, social community groups, an informational blog, and much more.
"Even though it is our 45th anniversary celebration, we are celebrating the artist and all they do. We are truly thankful for their support in us. We are delighted to be offering great sales, prizes and grand prize trip for 2 which is co-sponsored with our great partners"
All of these offerings and innovations over the years have been made by Jerry's in an effort to support the artist community, who have themselves in turn supported Jerry's. But this week in particular, marking the company's 45th year in business, is one in which Jerry's Artarama would like to extend its gratitude to all its customers, artists and supporters through the celebration of the weeklong Jerry's 45th Anniversary Artist Appreciation Event from April 22nd through 28th, 2013.
Throughout this week, customers and visitors to the website can benefit from a myriad of special offerings only available for a limited time. From extra discounts up to 45% off online, bonus giveaways, and daily deals each day. The Artist Appreciation Event boasts a super special designed to reward Jerry's loyal customers and welcome new ones. At the end of the week, the event culminates in the ultimate Grand Prize giveaway: a trip for 2 Raleigh NC to the Art of the Carolinas trade show worth upwards of $6,000. The grand prize is sponsored by Jerry's Artarama and co-sponsored by industry leaders such as The Artists' Magazine, Winsor and Newton, Jack Richeson Supplies, Prismacolor, Artograph, Ampersand Art Supply, Sennelier and Logan Graphic Products.
This unique Grand Prize is a Jerry's – and an industry – first, in which the winner and one guest will be provided with travel and accommodations at the biggest art material trade show open to the public: Art of the Carolinas in Raleigh, NC, taking place in November of this year. The Grand Prize winner will also receive hundreds of dollars in art supplies, be able to attend educational art workshops during the trade show, tour the Jerry's facilities and meet the staff, meet and chat with the artists, instructors and vendors at Art of the Carolinas, and much more. Open to all residents of the contiguous 48 United States, no purchase is necessary to be eligible to win this impressive prize; interested contestants need simply to supply their email address.
All artists interested in learning more about Jerry's Artarama, its history, unique art supplies, and more, are invited to celebrate its 45th anniversary by taking advantage of the Artist Appreciation Event, entering the Grand Prize drawing and participating in some of the great free artists resources offered on its website. Since 1968, Jerry's Artarama has been a friend and resource to artists the world over, and plans to continue that tradition well into the future.
From 1968 to 2013, Jerry's Artarama has been proud to have shared its history and success with its customers and supporters. Supporting the artist and the art community is Jerry's top priority now as it has been for the past 45 years, and it is proud to share this spring's special anniversary event with all its artistic friends and customers.
About Jerry's Artarama
Empowering artists for over 45 years. Jerry's Artarama prides itself on offering exceptional quality art supplies at everyday low prices. Providing artists with the best selection of paints, canvases, brushes, frames, papers, and art materials of all kinds is their passion and great service is their commitment.
Media Inquiries
Michael Marchetta
(800-827-8478)
mmarchetta(at)jerrysartarama(dot)com