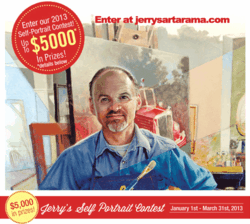 We're a week into the New Year and closing in a hundred entries already. Creating art is fun and relaxing and capturing the beauty of yourself can be rewarding
Raleigh, NC (PRWEB) January 11, 2013
The new year brings a new catalog for popular art materials retailer Jerry's Artarama, and with it, a new art contest open to artists across the nation.
The 2013 Self-Portrait Contest is being run by JerrysArtarama.com, and coincides with the multi-media self portrait by professional artist Dan Nelson that decorates the cover of the company's new annual catalog. Nelson's "Self Portrait in Six Media" uses multiple major art media, including pastels, watercolors, acrylics and oil paints, and is a celebration not just of the classic self portrait as a subject, but of the myriad of media choices open to the artist and available through Jerry's Artarama.
The rules for this new art contest are simple: artists within the US and not connected with the Jerry's brand are eligible to enter one self portrait in the art media of their choice, between now and the contest end date of March 31st, 2013. Community voting will commence April 1st on the Jerry's Facebook page, and winners will be announced April 12th. Jerry's Artarama will be awarding $5,000 in electronic gift cards to the chosen winners: $3,000 as the Grand Prize, $1,000 for Second Place, $500 for Third Place, and twenty-five Honorable Mentions at $25 apiece. Electronic gift cards will be redeemable online only and can be used for a shopping spree at JerrysArtarama.com.
"This is shaping up to be one of our most exciting art contests," says Michael Marchetta, Director of Marketing at Jerry's Artarama. "We're a week into the New Year and closing in a hundred entries already. Creating art is fun and relaxing and capturing the beauty of yourself can be rewarding. We designed this contest as a way to show our customers that we appreciate their patronage, and thank them for being a part of the ever-growing family here at Jerry's."
Self portraiture has been a highly respected art subject for millennia, and is ever-changing: as the times change, as the mediums change, and as the artist changes throughout his career. A self portrait is a lens through which the artist may discover more about herself – or conversely, a self portrait is an excellent subject on which to practice new art skills and techniques. Jerry's 2013 Self Portrait Contest is open to all interpretations of this classical subject, in any media – or multiple media – of the artist's choosing. From graphite pencil to pen and ink, oil pastels to encaustic paint, collography to collage, any style of self portrait is eligible. For inspiration and to see self-portraits from famous artsits such as Leonardo da Vinci, Vincent van Gogh, Pablo Picasso and many other well known artists Jerry's Artarama has included a blog post online.
Artists interested in participating in the 2013 Self-Portrait Contest are encouraged to visit the website for the official self-portrait contest page where official rules and an entry form can be found. Entries must be received by March 31st, 2013, and a gallery of contest entries will open for voting on April 1st. Winners are announced on April 12th and prizes will be awarded thereafter.
About Jerry's Artarama
Empowering artists for over 44 years. Jerry's Artarama prides itself on offering exceptional quality art supplies at everyday low prices. Providing artists with the best selection of paints, canvases, brushes, frames, papers, and art materials of all kinds is their passion and great service is their commitment.
MEDIA INQUIRIES
For Jerry's Artarama
Michael Marchetta
(800) U Artist
mmarchetta(at)jerrysartarama(dot)com