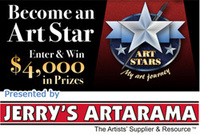 we started the Art Stars Contest to demonstrate our commitment to the artist community
Raleigh, NC (PRWEB) October 7, 2009
Jerry's Artarama announced its largest and most exciting contest in the 40 year history of the company today taking place on its web site JerrysArtarama.com. Jerry's Artarama is searching to find the next art stars in North America. Have the talent ambition and like video? If so, please enter the Art Stars "My Art Journey" Contest Jerry's Artarama has been serving the artists community since 1967 with discount art supplies such as oil paints, acrylics, easels, watercolors and much more. As the online Artist's Supplier Resource, " we started the Art Stars Contest to demonstrate our commitment to the artist community " Kevin Kelley said. Jerry's goal is to introduce everyone to wonderful world of art and help an artist star in their own free art lessons video which will be available for family, friends and aspiring artists to see worldwide on the Jerry's Artarama website!
Lights... Camera ... Action! 1st prize winner will Take a trip to Burning Oaks Studios in Raleigh, NC to star in an art instruction DVD on The World of Art DVD brand. Trip expenses include transportation, meals and lodging. In addition, star in a free art lesson video which will be available for family, friends and aspiring artists to see worldwide on the Jerry's Artarama website!
" We are artists who know how hard it is to get noticed for your art work " President of Jerry's World of Art, Mr. Kelley shared.
Winners of the Art Stars: My Art Journey Contest will be featured on the official Art Stars Contest You Tube Channel and in a special gallery on the Jerry's Artarama web site from May 9th until June 30, 2010. The complete list of prize awards for Art Stars "My Art Journey" is as follows:
1st Prize

$1,000 Jerry's Artarama Gift Card
$1,000 World of Art DVD Contract
$1,000 Trip to Burning Oak Studios
Publc Relations Campaign - Press releases will be sent to publications including the winners home town newspaper, art magazines and major social networking sites such as Twitter and My Space.
2nd Prize - $500 Jerry's Artarama Gift Card
3rd Prize - $250 Jerry's Artarama Gift Card
5 Honorable Mentions - $50 Jerry's Artarama Gift Card
Everyone Who Enters - Instantly receives an exclusive coupon for a free World of Art DVD to choose with any purchase of $50 or more, valued up to $29.99.
All artwork must be original and not previously used by Jerry's Artarama in any of its advertising or promotions. 1st prize will be awarded to the video with the highest viewership. In the case of a tie, the management of Jerry's Artarama will then determine the prize winners. Artists with existing World of Art brand free art lessons are not eligible to enter this contest.
Excited about entering the Art Stars Contest but wondering where to start with filming?
Visit http://www.youtube.com/ArtStarsContest to watch a sample video from renowned watercolorist Tom Jones.
Full details and contest requirements are be found on Jerry's Artarama Art Stars Contest.
About Jerry's Artarama
Jerry's Artarama Superstores provide more than just incredible discount prices including instructional workshops, new art supply demos, special art related events and cretaes a community for artists across the country.
###