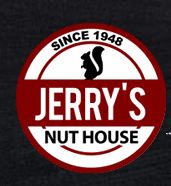 There is a flavor for every occasion and taste.
Denver, CO (PRWEB) July 20, 2012
If you're one of the millions of popcorn lovers across the nation, now you can have more than seven specially made gourmet popcorn selections at Jerry's Nut House.
"We carry seven delicious varieties of gourmet popcorn at Jerry's Nut House," said Nick Julia, Internet marketing manger for Jerry's Nut House, which also carries raw nuts, bulk candy, dried fruit, trail mixes, bulk snacks, and bulk chocolate. "There is a flavor for every occasion and taste."
Julia explained that for the cheese lovers, it carries cheese, white cheddar, and its newest flavor, smokin' hot cheddar.
"For that sweet tooth, we have caramel and nutty corn," Julia noted. "For our popcorn purists, enjoy gourmet butter and natural lightly salted. Eat them in separate bowls, or mix them together and make your own gourmet popcorn creation."
Jerry's Nut House, which has been honored by Celebration Media, U.S. (CMUS) as one of its 2011 Talk of the Town Award Recipients in the category of top Candy Stores, described its cheese varieties as the kind that will blow you away.
"They are so good you will be licking your fingers for hours afterwards," Julia promised. "The cheese popcorn is a classic. It is air-popped to crisp perfection and then mixed with Jerry's special cheese blend. Try it with our caramel popcorn for a delicious Chicago-style treat."
Heather Morris, a frequent shopper at Jerry's Nut House and gourmet popcorn aficionado explained:
"It's a great place for all your needs," she stressed. "I've been going to Jerry's Nut House for about 20 years and there is always something for everyone. Almonds, cashews, candies, dried fruit, chocolates, popcorn, other random sweets, gift trays and baskets and so many other things to choose from."
For more information about Jerry's Nut House gourmet popcorn, please visit: http://www.jerrysnuthouse.com/popcorn/
About Jerry's Nut House
Jerry's Nut House was founded in Denver by Jerry Levine and his wife, Roie.
Jerry first got the idea for the business when he came home from serving in the Army during World War II and began attending the University of Denver.
While he was a student at the University of Denver, to help support himself Jerry worked part time with his brother delivering snacks like Atomic Pickles, deviled eggs and nuts.
The nuts so intrigued Jerry that he began studying how they were grown and processed. Then after he finished college and stopped working with his brother, Jerry decided that nuts were his real passion.
Jerry began buying, roasting and selling nuts throughout the Rocky Mountains.
Today, more than 60 years later, Jerry's Nut House has become well-known for its attention to detail and high standards in producing freshly roasted nuts and other snack items.
###