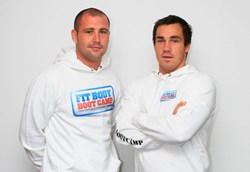 Ryan and I are committed to helping the wider Jersey community achieve their fitness goals.
Jersey, Channel Islands, UK (PRWEB) June 29, 2013
The Fit Body Boot Camp in Jersey, Channel Islands has only been open since last September, but the popular fitness boot camp franchise's central location has already signed on 250 active members and has helped over 800 Jersey residents lose weight and get in shape. That is why owners and business partners Craig Culkin and Ryan Hodgson have decided to open another Jersey location.
Fit Body Boot Camp East Jersey, Channel Islands will open its doors to the community on Monday, July 1st, at the Samres School found on School Road in St. Clement, Jersey.
Certified personal trainer and Jersey boot camp owner, Hodgson, says that he and his business partner decided to run their boot camp out of a local St. Clement school because he believes the community could benefit from working out in a fun, supportive, and encouraging environment.
He says, "Fit Body Boot Camp East Jersey will run out of a local school because are looking to help improve the health and fitness of our community and we plan to work closely with the schools involved."
Before getting into personal training as a career, owner Culkin who has a background in football, admits that he had issues with his weight fluctuating in between sporting events. After struggling to keep his weight and body fat stable he decided to make some life changes and introduced resistance training and high intensity cardio into his workout and noticed a big difference.
Soon after Culkin started personal training, he discovered Fit Body Boot Camp. Culkin says, "I made a decision to bring the Unstoppable Fitness Formula in Fit Body Boot Camp to the Channel Islands. Just like I had to take responsibility for my weight fluctuations, Ryan and I are committed to helping the wider Jersey community achieve their fitness goals."
About Fit Body Boot Camp Jersey
Jersey Fit Body Boot Camp is owned and operated by certified personal trainers and business partners Ryan Hodgson and Craig Culkin. Culkin and Hodgson are committed to helping the Jersey community lose weight and get in shape. Their efforts support the fitness franchise Fit Body Boot Camp's global initiative to expose and engage 20% of the world's population in an active and healthy lifestyle. To find out more about Fit Body Boot Camp or the Jersey Fit Body Boot Camp location, please visit http://www.fitbodyjersey.com or http://www.myfitbodybootcamp.com/