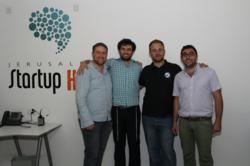 Israel has amazing space technology. People don't know about it, but we have it.

Kfir Damari, SpaceIL Founder & Co-CEO
Jerusalem, Israel (PRWEB) June 25, 2013
SpaceIL is a non-profit organization, working to land an Israeli spacecraft on the moon and make Israel the third country (after the United States and the Soviet Union) to do so.
The organization was founded by three young Israeli engineers, who undertook upon themselves the challenge of the international competition, Google Lunar X-Prize: a global race for landing an unmanned spacecraft on the moon.
The team represents Israel at the competition, against 23 other privately-funded space teams from around the world. The prize to be awarded to the winners in the first place is $20m. SpaceIL is committed to contribute the potential prize money for promoting science and scientific education in Israel.
In accordance with the competition rules, the team must make a soft landing, operate the spacecraft across the lunar surface to a 500 meters distance and transmit HD video, images, and data back to Earth. SpaceIL chose to build the spacecraft as a mini-satellite. The target date planned for launch is 2015.
SpaceIL is based primarily on the work of over 250 volunteers, and is supported by a wide range of partners and supporters, such as Israeli Aerospace Industries, academia and business associations.
The company presented themselves to the general public at the Jerusalem Startup Hub (JSH) - the new center for entrepreneurial innovation in Jerusalem. Located in the heart of the city, the Hub opened its doors in March 2013. Founded by three partners with extensive business experience - Levy Raiz, Roman (Rafael) Gold and Gadi Isaev, JSH aims to be the center of start-up development in Jerusalem, a hub for break-through technological ideas from all over the world and also serve as the window into the Israeli field of innovations for international investors.
JSH takes an active role in shaping and uniting the entrepreneurial community in Jerusalem. It regularly hosts events and lectures with leaders of the Israeli and international start-up community, well-known entrepreneurs, scholars and opinion leaders.
In the near future Jerusalem Startup Hub plans to launch an international technological incubator in Jerusalem that will focus on idea support and development, as well as assist companies in launching internationally.