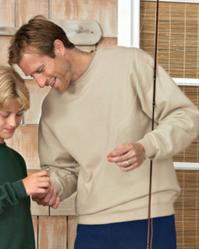 New York , NY (PRWEB) September 23, 2012
Jerzees 4662 Super Sweats® Fleece Crewneck Sweatshirt, is available now for 15% off, blank or customized with; embroidery, embroidered patches, appliqué, tackle twill, or direct to garment printing with no minimum from 9/23/12 thru 9/30/12 at Crooked Brook.
Jerzees 4662 is regularly priced at $22.32 blank; the 15% discount brings it down to $18.97 and there is no minimum.
The 4662 is 50% cotton, 50% polyester NuBlend™ preshrunk fleece with 1x1 ribbed neck band, cuffs and waistband with spandex. It features double-needle coverseaming on the neck, armholes and waistband. 9.5 oz. fabric provides a more substantial product and higher stitch density fabric yields a smoother, better performing decorating surface.
Sizes: S, M, L, XL, 2XL, 3XL, 4XL
Colors:
S-4XL available in Black, J.Navy, Oxford
S-3XL available in White, Ash, Classic Pink, Columbia Blue, Forest Green, Maroon, Royal, True Red
S-2XL available in Chocolate, Gold, Khaki, Sandstone
About Sweatshirts
At one time, sweatshirts were long sleeved, unisex and colors were limited to heather gray, navy blue, black or white.
Today, men's sweatshirt are now available in what were once considered women's colors and women's sweatshirts are no longer smaller versions of men's, with silhouettes cut specifically for a woman's shape; sweatshirts made in high-performance fabrics, knitted silk, merino wool or other fabrics.
There are long sleeve, short sleeve and sleeveless sweatshirts, crewneck, turtle neck, mock turtle neck sweatshirts and hooded sweatshirts.
The most popular fabric for a sweatshirt is cotton fleece, followed by cotton/polyester blends and many brands offer them in a wide variety of weights.
The origin of the hooded sweatshirt goes back to the Middle Ages when the standard trappings for monks were a long tunic or robe with a cowl. The hooded sweatshirt as we know it today, was invented in the United States by Champion (an apparel manufacturer specializing in sportswear) in the 1930s and the word hoodie or hoody started to appear in popular culture in the 1990s and is used whether it is a zip up or a pullover hooded sweatshirt.
Although embroidery or embroidered patches are the most popular method of decoration for sweatshirts, sometimes neither is suitable for a logo or design because more often than not, the artwork was designed for print. With print, letters can be much smaller and colors can be incorporated more fluidly than with embroidery. Therefore, in some cases, printed logos or designs are a better option and a lower cost alternative to embroidery.
Custom sweatshirts are a great way for people to express their own individuality and the perfect promotional apparel item for cool weather. Pullover crewneck sweatshirts offer the flexibility of a unisex style to be worn indoors or outdoors; spring, fall, winter or cool summer nights. Custom sweatshirts offer four seasons of freedom of expression and promotional opportunities in one style.
About Crooked Brook
Crooked Brook is a unit of the atelier division of an art studio that offers full service apparel design, pattern making, sample making, private-label small lot production, direct-to garment printing and embroidery. Since 1989, they've built a strong reputation of providing top-notch apparel designs, patterns, fit and production samples for many brand name catalogs and retailers, as well as wardrobe and costumes for movies, television and theater.
All Crooked Brook branded garments and accessories are proudly made to order in the U.S.A.
In addition, Crooked Brook offers:
Custom and made to order men's and women's chef coats, casino, spa, resort, hotel, chef and restaurant uniforms as well as alumni chef jackets for the Culinary Institute of America. Lab coats, uniforms and scrubs for nursing, medical, dental, scientific, engineering, technology & healthcare professionals.
Custom and made to order apparel and accessories for men, women and children, including but not limited to: suits, shirts, Hawaiian shirts, pants, vests, dresses, skirts, gowns, jeans, boxer shorts, martial arts and yoga outfits.
Sewing buttons and fabric by the yard: Ripstop, Organic Cotton Twill, Gabardine, Seersucker, Denim and Supima® Gabardine.
Promotional products, items, decorated apparel and accessories, such as; custom embroidered fleece vests, hats, polo shirts, fleece blankets, sweatshirt blankets, custom embroidered shirts, custom embroidered jackets, embroidered hoodies, embroidered golf shirts, custom t-shirts, tote bags, custom embroidered sweatshirts and aprons that can be customized with the following apparel decorating methods:
Embroidery
Tackle Twill
Appliqué
Direct to Garment Printing (DTG)
Sublimation
With a design studio in New York City, (the fashion and gastronomic capital of the world) and a production facility in Utica, New York, they've garnered international brand name recognition as the maker of the "World's Highest Quality Chef Jackets™".
Crooked Brook ships worldwide. Hours of operations are 7:00 a.m. to 7:00 p.m. EST, seven days a week. Reach them at (315) 733-1992 to learn more.