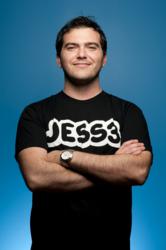 I think of 500 Startups as Silicon Valley's startup community center," said Thomas.
Los Angeles (PRWEB) August 14, 2012
Jesse Thomas, CEO and founder of creative agency JESS3, has been tapped to serve as a mentor for 500 Startups, a Mountain View, Calif.-based seed fund and startup accelerator working to help companies succeed.
As a 500 Startups mentor, Thomas will help guide company leaders by sharing his marketing and branding expertise, gleaned from his experience shaping JESS3 and working for many years with industry leaders. He joins a robust, well-respected network of more than 175 mentors across the globe. All are united in their passion to help startups succeed by offering one-on-one mentoring, giving talks, holding office hours, and lending advice and a helping hand.
"I think of 500 Startups as Silicon Valley's startup community center," said Thomas, who was impressed by founder Dave McClure upon hearing him speak at conferences and 500 Startups events. Thomas's interest in assisting the organization was solidified during a Geeks On A Plane trip, an invite-only tour for startups, investors and executives to learn about burgeoning technology markets worldwide.
In attending a 500 Startups event in New York, Thomas recognized that something special was going on, and he wanted to be part of it. "Their legitimacy made me want to test my personal worth by seeing if I could be a mentor," he said. "I look at this like a badge of honor."
Mentors commit to offering at least five hours a month of assistance working with startups. Thomas's expertise lies in helping brands – from NASA to Nike – design everything from printed materials to interactive user experiences at their websites. He also can assist startups in communicating visually what they do, given that presentation design is JESS3's specialty.
Thomas is most interested in investment themes that include consumer commerce, mobile and tablet, design focus and food tech. These specifics aside, he said, "I want to advise junior super stars."
Thus far, Thomas has informally advised AlphaBoost, a company working with 500 Startups that is building technology to address social advertising needs by amplifying social advertiser capabilities. He also has helped 500 Startups with its own branding, and has led the team at JESS3 in creating a 60-page zine for Geeks On A Plane attendees.
Thomas also serves as a mentor for Founder Institute, the world's largest idea-stage incubator.
About JESS3
JESS3 is a world-renowned creative agency that specializes in data visualization. Through the mastery of illustration, information design, visual storytelling, animation and engineering, JESS3 brings beauty to complex concepts, issues and data sets. In addition to working for vanguard brands including Google, Nike, Intel, Twitter, American Express and Facebook, JESS3 also has a dedicated Labs division, which funds and launches its own content, products and initiatives. Details are at http://jess3.com and on many more social channels.