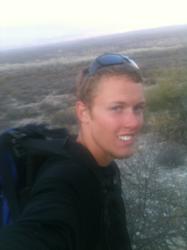 In the burn unit, I met a four-year-old whose burns were worse than mine. She had already been there for three months, and she made me think that if she had the courage to endure, then I could too.
Westfield, Indiana (PRWEB) April 10, 2012
Almost five months, 310 gallons of water, three pairs of hiking boots, and 6,240,000 steps ago, Jesse VanOsdol left Huntington Beach, California with a lofty goal: to walk coast to coast to raise money for the Burn Unit at Riley Hospital for Children in Indianapolis.
Jesse, 20, is close to seeing that goal become a reality as he walks through Florida headed to the coast of Jacksonville, Florida. So far, Jesse has hiked through California, Arizona, New Mexico, Texas, Louisiana, Mississippi, and Alabama, walking over 2,300 miles to date. He averages about 20 miles every day, with his longest stretch being a 50-mile day when he walked all night in Texas.
Jesse was a patient in the Burn Unit at Riley Hospital for Children in June 2010. He was burned in a bonfire accident shortly after high school graduation and spent the next several weeks recovering from second- and third-degree burns at the Indianapolis-based hospital.
His goal is to raise $15,000 for the Burn Unit. So far, he has raised just over $9,000 at his secure, professional First Giving website at http://www.firstgiving.com/fundraiser/StepItUpJesseVanOsdol/HikesAcrossAmerica.
To follow Jesse's journey, check out his personal blog at http://stepitupjessevanosdol.wordpress.com/.
For most of the trip, Jesse has walked solo. A few friends have joined him for a day or two. His cousin Ashley VanOsdol hiked with him for a week over Christmas. "She was a beast," Jesse said. Jesse's dad, Mark VanOsdol, joined him for a week in March. Mark found trying to keep pace with Jesse infinitely harder than the road racing he normally does on his bike.
Like most things in his life, Jesse's journey has been filled with excitement. He was caught in the December Santa Ana wind storm in the Mojave Desert, was tracked for 15 miles by the border police in New Mexico following his boot treads, was snowed on in the Dragoon Mountain pass in Arizona, and had to scale a 20-foot cliff pulling his cart up behind him. He's also been given water by strangers in the desert when he ran out, mysteriously found the exact gear that he needed in perfect condition at the side of a deserted road, and witnessed the joy of a homeless man after stumbling across his home under an overpass.
Through all his experiences, the kids on the Burn Unit are never too far from Jesse's mind. "On a really hard day, I met a special friend in the room next to mine," Jesse remembers. "She was only four years old, and she had already been on the burn ward for three months when I arrived! She encouraged me and made me think that if she, whose burns were so much worse than mine, had the courage to endure, then I could too. I am happy to tell you she is home now. I will never forget her," Jesse said.
Jesse is available for personal and phone interviews with the local media in each city he walks through. He can be reached on his cell phone at 317-989-2766.