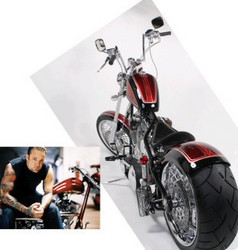 This chopper is a dream for motorcycle enthusiasts and collectors alike. The fact it is street legal with all its power still intact is a testament to Jesse James and all the guys at Illusion Motorsports and West Coast Choppers
Los Angeles, Calif. (Vocus) June 4, 2009
Get your motor running as you take a walk on the wild side, for a good cause of course! Auction Cause, the leading cause marketing agency, is proud to partner with Illusion Motorsports for a very special ride.
Up for grabs is a brand new 2009 Hellrazor - a WCC (West Coast Choppers) signature series bike, hand-assembled using select Jesse James chassis components, manufactured in the Illusion facility in Westminster, California. The Illusion Hellrazor is a serious hot rod motorcycle hitting the road with state of the art components and WCC American-made components.
"This chopper is a dream for motorcycle enthusiasts and collectors alike. The fact it is street legal with all its power still intact is a testament to Jesse James and all the guys at Illusion Motorsports and West Coast Choppers," commented Eric Gazin, President of Auction Cause.
West Coast Choppers was founded by Jesse James in the early '90s and quickly established his reputation as a celebrity motorcycle builder. Started just out of a garage, Jesse built his legacy and grew into an American icon with a worldwide known brand representing freedom, individualism, and a lust for life.
This original manufactured custom motorcycle comes from Illusion Motorsports, led by founder and President Rusty Coones. Illusion is listed in both the Kelly Blue Book and NADA guides along with other American motorcycle manufacturers such as Harley-Davidson and Indian. Illusion has been manufacturing USDOT legal custom motorcycles for over a decade and while other bike "builders" have come and gone, Illusion continues manufacturing its high quality production motorcycles for a select group of "in the know" Southern California buyers. Visit Illusion at http://www.illusionmotorcycles.com/.
"The Hellrazor was built with an exclusive CFL250 frame and painted by HotDog Jesse's in house painter," comments Illusion Motorsports. "Rod Requejo is Rusty's partner at Illusion. His family history is interwoven with South American Formula One Championships. Rod's great uncle was a four-time Formula One champion, racing cars that were hand built by Rod's great grandfather and his six brothers. Rod stated that like a Formula One car is born a race car. The HELLRAZOR was born a custom motorcycle rather than merely a modified Harley."
Proceeds from the auction will go to raise funds for City of Hope and their innovative biomedical research, treatment and educational institution. They are dedicated to the prevention and cure of cancer and other life-threatening diseases. Please learn more on their pioneering research and treatment at http://www.cityofhope.org.
Auction Cause once again offers a once-in-a-lifetime opportunity to own this signature custom made motorcycle and at the same time a chance to help a great charitable organization. Here's a feel good way to live your dream of owning a motorcycle and know you are making a difference for those being helped by The City of Hope.
Bid on this incredible custom made motorcycle at http://www.auctionsforhope.org.
About Illusion Motorsports
From custom motorcycles to automotive chopped tops, Illusion can make your concept a reality. Metal fabrication is their specialty. Welding, machining parts, modifying, straightening and stretching motorcycle frames. They build custom gas tanks and fairings also.

They offer complete service on most v-twins (tune-ups, repairs, oil changes, etc.)
Complete motorcycles built to customer specifications, or just the fabrication leaving the assembly to you.
Custom paint and bodywork to your specifications. Flames, scallops, and any airbrush work.
Illusion is an E.P.A. and C.A.R.B. certified motorcycle manufacturer listed in the Kelly Bluebook and N.A.D.A. price guides. This makes their motorcycles easy to insure or finance. OEM motorcycles.
Illusion Motorsports
14726 Goldenwest St #F
Westminster, Ca. 92683
714-894-1942
About City of Hope
City of Hope, an innovative biomedical research, treatment and educational institution, is dedicated to the prevention and cure of cancer and other life-threatening diseases, guided by a compassionate patient-centered philosophy, and supported by a national foundation of humanitarian philanthropy.
About Auction Cause
Auction Cause is the leader in cause marketing campaigns, branding, and fundraising utilizing the eBay platform, generating more than 1 billion media impressions and counting. By integrating clients' campaigns with social media outreach using Twitter, Facebook, blogs, viral videos, and more, Auction Cause is able to tap an even wider audience.
The results are brand loyalty, nonprofit enthusiasm, and celebrity buzz - all while raising serious money for causes.
For more contact information, please visit http://www.auctioncause.com or follow them on Twitter at http://www.twitter.com/auctioncause.
For Media Inquires
Gwen Paja
Auction Cause
gwen (at) auctioncause (dot) com
Phone 323-655-0554
Fax 323-375-1507
# # #