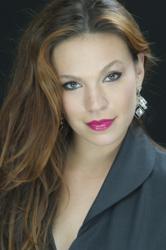 Jessi Teich is an old
Blues, Jazz, and Soul singer trapped in a 20
something year old woman's body. - The Mic Check of The Purveyor of Truth
Philadelphia, PA (PRWEB) November 27, 2012
Jessi Teich, an internationally known singer/songwriter/composer, will be performing at the 2012 New Year's Eve event hosted by Nicolas Fanucci, Owner, of Le Bec Fin. The evening will comprise of two performances, 6pm - 9pm and 10pm to 1am, during a world class dining experience and will require reservations. Contact Le Bec Fin via the web or by phone at 215-567-1000 to secure your place.
About Jessi Teich:
Rising talent Jessi Teich, a Philadelphia singer/composer, has the ability to capture and express the thick, luscious tones from an ear well-trained by voices resounding from old LP's that spun the jazz greats. With her versatility and ever changing timbre of poetry, Jessi sets a mood with her music that is bursting with passion and creativity. The quality of her voice matches her compositions that churn with soulful cries for love, and quirky lines that move with a purpose. She puts on a high energy and musically intelligent show that surpasses all race, age, religion, and sex.
Jessi has performed at many prestigious venues in Philadelphia, New York, and across the country that include the TLA, Tin Angel, Rockwood Music Hall, The Apollo Theater, and BB King's Club. Additionally she has performed at Duc Des Lombards, Vauxhall Blues and Le Blaiser Sale in Paris, France.
For more information on upcoming shows and the latest news on Jessi's career, check out her website or visit her Facebook page at http://www.facebook.com/jessiteichmusic.
About Nicolas Fanucci
Born in Cannes, France, Fanucci gained valuable service experience while working in various European and American establishments. Upon his receipt of his Certificat d'Aptitude Professionnelle in Cannes, he worked with renowned Chef Roger Verge in Le Moulin de Mougins as a kitchen server. Later, he was Demi-Chef de Rang at Le Louis XV, Chef Alain Ducasse's 3-star Michelin property in Monaco. Fanucci's work history also includes stints at Nico at Ninety Park Lane in London, at La Grenouille and Le Cirque 2000 in New York City, and at Chef Georges Perrier's Le Bec Fin in Philadelphia, where he served as General Manager for three years.
After managing Le Bec Fin, Fanucci went to The Breakers in Palm Beach, Florida, and moved to California in 2005, assuming the role of General Manager of Thomas Keller's The French Laundry restaurant in Yountville. Under his leadership, the restaurant received many accolades, such as an inclusion in Zagat's Top 10 Most Popular Restaurants in the Bay Area, and a 3-star rating from the French-based Michelin Guide since its San Francisco edition debuted in 2007.
Fanucci also helped oversee The French Laundry "pop-up" restaurant at Harrods in London in October 2011. He has served as Assessor of Les Grandes Tables du Monde, Traditions & Qualité, the prestigious and exclusive French-based global restaurant organization.