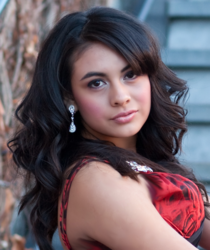 She is a part of an explosion of Latin Teen Stars vying for the chance to make a presence on major networks
Salt Lake City, UT (PRWEB) June 01, 2011
What sets Jessica Lopez apart from other teen entertainers? She is a part of an explosion of Latin teen stars vying for the chance to make a presence on major networks like the Disney Channel, Nickelodeon, and beyond. Also an increasing number of independent artists are taking a shot at becoming their own private labels, as the internet has opened a wide array of opportunities to launch careers. For this purpose, Jessica and her parents have established The Jessica Lopez Company (TJLC). and with the help of CD BABY the largest online distribution company for the independent artist, she is ready to go. This Utah home grown teen celebrity is launching a career at 14. "I Found You" World Release is the result of this young talents inspiration as a blossoming singer / songwriter. Being inspired by her aunt Rhosby Barker a well known Mexican Poet from Chiapas, Mexico has come in handy. Speaking Spanish fluently will be another lucky card to draw as she releases the Spanish version of her new album"Te Encontre" (I Found You), scheduled for this summer.
Miss Lopez is a 5'4" super photogenic copper tone brunette with a genuine and contagious personality. Her photogenic attributes make her a candidate for being on the cover of major magazines. When other girls are thinking boys and make-up, Jessica is being refined like a diamond in the rough. Her daily routine of training, writing, appearances and interviews keep her focused in achieving her dreams of becoming a successful pop star. She still manages time for her school plays, chores, and going to the mall with friends.
The Hot new 10 song album "I Found You" Jessica wrote, with the exception of two cover tunes, "Besame Mucho" and "Make It Real." Besame Mucho is ballad written by a 15 year old Mexican Composer "Consuelo Velasquez" in the 1940's. Included also "The JETS" popular hit of the 80's "Make It Real". Both songs have up tempo beats surely to appeal the teen pop lovers. The pop album includes fun up-tempo beats and well fused electronic sounds and instruments arranged by Victor Cordova an in house arranger for the International Music Systems in Texas. Her Current vocal coach is Dean Kaelin (David Archuleta's coach). Martha Chavez a talent promoter in Utah has been her mentor and fan. All vocal harmonies are sung by Jessica. Her catchy tune titles include; Rock It Baby, The Weekend's Here, Heaven, Super Hero, I'll Be Here, So What, Crazy 4 U, and I Found You. All songs are reflective of her age, boys, and feelings and dancing.
Parents don't have to worry about her song lyrics; Jessica holds to strong family values. She signed a contract with her parents where she promises to continue with her education and maintain the highest level of integrity in her songs and performances.
Jessica was born in Chiapas, Mexico and raised in Utah. Her father Mr. Jose Eduardo Lopez is the Executive producer for the project and her number one fan. He has worked with Jessica on the lyrics, musical arrangements and mixing of her music. Jessica's mother whose name she bears has been her beauty and scheduling consultant. You might say this has been a family affair a very close knit family that is very supportive of the new "Rising Star".
This career has not been a fairy tale princess story. She and her family have had to work long hours and are making financial sacrifices to further develop her career. Yes, she is paying her dues at an early age and someday all this will pay off. Learning the tricks of the trade has not come easy as there is no set magical formula for being an overnight sensation; it's just plain hard work for all involved and lots of luck.
Jessica has faith that all their efforts and hard work will be recognized by other individuals that move the Entertainment Industry. She counts with over 5,000 fans on her Official website, Facebook, Twitter, YouTube and a PR office that works long hours to put her on the World Map through the miracle of the Internet. The Jessica Lopez Company is preparing and planning her concert tour for the summer of 2012. She has performed both in the US and recently performed for a large live television crowd in Chiapas, Mexico on Canal 10, and interviewed on other shows such as Al Grano, 10 en Deporte and Voz de Mujer
This is your chance to hear Jessica's music and judge for yourselves. Remember she is already a successful 14 year old straight "A" Jr. High Student, who is trying her luck at writing and singing her own material for the world to hear no matter the odds. Hats off to Jessica Lopez.
###