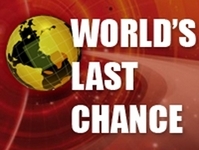 The Bible says the believer is saved through the righteousness of Christ. But have you ever wondered what that really means? At one point in my life I found myself questioning whether I really knew Jesus -- other than the fact that He died on the cross for my sins. But who really was my Saviour? The teachings taught in this book shed light on these dark areas in my Christian experience
(PRWEB) December 17, 2007
Christianity was named after a Man little understood. Christian views of Jesus vary as denominations vary. But what does the Bible say about Jesus Christ? World's Last Chance has released an ebooklet "Christ and His Righteousness" that contains Biblical teachings about Jesus that are not espoused by any recognized church today.
World's Last Chance is promoting this book because the ministry believes that "Christ and His Righteousness" taps into God's goldmine of infinite power to gain hitherto unexperienced freedom from sin and guilt. As a result of studying the truths in this book, the ministry has witnessed the lives of many glow with unsurpassed peace and a child-like trust in God.
"The Bible says the believer is saved through the righteousness of Christ. But have you ever wondered what that really means? At one point in my life I found myself questioning whether I really knew Jesus -- other than the fact that He died on the cross for my sins. But who really was my Saviour? The teachings taught in this book shed light on these dark areas in my Christian experience," explains Dahlia Doss of World's Last Chance. "Jesus longs to be understood by His children and sadly 99.9 percent of Christians today do not know the Saviour as He yearns to be known, because almost all churches do not uphold the true Christ of the Bible."
"'Christ and His Righteousness' does not teach legalism or liberalism as those are both of the devil. It explores how we can invite Christ and His righteousness to transform our minds into His image."
The book addresses Jesus from several distinct angles as: the Son of God, our God, our Creator, our Lawgiver, our Sin-bearer, and our Righteousness. This book explains Christ in a way that leaves atheists speechless.
World's Last Chance believes that the nearer the world comes to the Second Coming of Christ the more deceptive will the counterfeits of Christ be, climaxing in the engulfing deception of Satan himself impersonating the Saviour. Using the same gracious words that Christ uttered and doing the same miracles as Christ did.
In light of this, the people of God must be so well acquainted with their personal Saviour that no counterfeit Christ will be received or accepted in place of the real Christ. There is no salvation or safety but to know Christ -- meaning to know Him at a personal and intimate level by having His mind live in the heart.
"If you find it challenging to keep Jesus always in your heart and desire to have a closer walk and deeper gulp of everlasting cisterns of life you will find this small book a priceless treasure," concludes Doss.
A complimentary copy of the "Christ and His Righteousness" ebook is offered at the online library at World's Last Chance.
About World's Last Chance .
World's Last Chance is an online Christian ministry that produces the most -- viewed, controversial and translated -- end-time Bible prophetic videos on the web. The website upholds sharp, provoking teachings which no one has been able to prove wrong from the Bible.
The ministry is operated by non-denominational volunteers who believe the second coming of Christ to be only a few years away and are dedicated to sharing God's last warning of mercy to the world before Christ comes.
The ministry is dedicated to those who are discontent with the watered-down truths preached nowadays, and are thirsting for the undiluted word of God and a hefty serving of His bread of life.
###