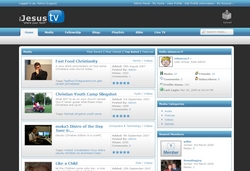 Hampton, VA (PRWEB) March 8, 2009
TheJesusTV.com has created a revolutionary website that is unlike any other, allowing fellow worshippers to contribute their beliefs in Jesus, by creating their own custom profiles. This allows members to provide information about themselves and how they follow the work of Jesus. Also available is the option to view their Virtual Bible. Videos are added to TheJesusTV.com on a frequent basis, allowing members to view them anytime they please. There is also an archive of these videos.
Finally a website that shows the true devotion of our savior Jesus Christ
This site also offers Christian music from many popular artist and interviews with these artists. Not only can visitors listen to music, watch videos, they can also play games online. TheJesusTV.com has covered every aspect on their social network. The option of viewing live TV is yet another bonus to this site. Visitors can view channels such as Church TV, TBN, EWTN and many others. What better ways to enjoy their faith than visiting a website surrounded by individuals just like them?
TheJesusTV.com never forgets its main focus, which is Jesus, Owner
There are other Christian websites, such as Tangle; formally known as GodTube, the reason for the name change is because the company thought that GodTube was perhaps too blunt and polarizing. In response to this TheJesusTV.com has been completely revamped with a ton of cool Web 2.0 features. TheJesusTV.com also stays focused and maintains its path of worshiping Jesus.
TheJesusTV.com has left no stone unturned, Christians will admire this site without a doubt
TheJesusTV.com also offers inspirational stories along with testimonials. Members will feel as if they are inside a church when worshipping and sharing with other members here. The best thing is the membership is free.
There is absolutely no competition with any other full media site reflecting on Christian beliefs and Jesus. TheJesusTV.com website has incorporated every thing imaginable into their site that will allow members to connect with their peers and help learn even more about Jesus than ever imagined.
###