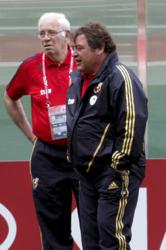 Havining an established Spanish soccer professional coach like Jesús Paredes Alonso is just another example of the excellent football staff asembled at EduKick Madrid. It is such an honour to have Jesús join us!
Joey Bilotta, EIFA Owner
Madrid, Spain (PRWEB) May 28, 2012
EduKick Madrid officials announced last week in Madrid that former Spanish National Team Assistant Coach, Jesús Paredes Alonso has been added to the technical soccer staff at EduKick Madrid Football Academy. Jesús, who assisted legendary Spanish National Team coach Luis Aragonés in winning the European Cup in 2008, has committed to become technical advisor to Spain leading "Football & Education Academy" located in the soccer mad city of Madrid, Spain.
EduKick Madrid Football and Education Academy is an academic residential boarding school football academy for international student-footballers from 13-22 years of age. Players follow a full-time academic schedule (either secondary study or Spanish language study) and also train and play soccer daily under the direction of the EduKick Madrid technical soccer staff. Players register for an entire academic year and reside at the University of Madrid, where EduKick Madrid has it's supervised dormitory residence.
Jesús has always been fond of youth football development and it was no surprise for EduKick Madrid Co-Directors, the Aragonés brothers when he quickly accepted their invitation to participate and collaborate to be an important member of the EduKick Madrid technical coaching staff.
Coach Jesús Paredes brings vast experience to the program with a long career of elite achievements at the highest level of Spanish professional football. He is a recipient of the Spanish National Physical Education and Sport-Institute GOLDEN MEDAL for his excellent work as trainer of the Spanish National squad and as assistant to Luis Aragonés at the European Cup in 2008. EduKick Madrid international players will benefit from his more than three decades of professional experience working in Spanish football.
Jesús Paredes is a well-respected and well known coach in Spain and especially in Madrid with his ten year's service at Real Madrid (Castilla). He assisted the legendary Real Madrid football coach and player Alfredo Di Stefano at Boca Juniors in Argentina and then returned to Spain with Don Alfredo to coach at Valencia C.F. in the 80's. He then worked with professional Spanish clubs Murcia and Rayo Vallecano, before returning to Valencia with Luis Aragonés. Finally, taking the Spanish National Team Assistant Coach position in 2004.
Coach Jesús will begin this collaboration during summer camps EduKick Madrid conducts in July and August and then he will be there to meet the 2012/13 EduKick Madrid International Academy players when they assemble in Madrid from around the world in late August.
EduKick Madrid Director, Anselmo Vicioso Aragonés, who also worked with the Spanish National Team as the squad's sports psychologist, said, "I am delighted to be working again with Jesus and excited that our players will have the chance to benefit from his vast experience. It's a pleasure to welcome him to our EduKick Madrid family."
Interested parties can learn more about this unique year-long Spanish futbol and education course by contacting EduKick directly.
EduKick International Football Academies (EIFA): EduKick's MISSION is to operate the world's leading international soccer/football and education academy boarding schools; building strong business relationships in a vibrant, creative and ethical international football environments. To teach, inspire and create the best technical footballers possible and create motivated international students with developed inter-cultural competence (ICC), enabling them to compete in the modern competitive world.
Based in Toronto, Canada & Chicago, Illinois, EduKick Inc.'s (EIFA) world famous international football boarding schools were founded in 2001 by ex-professional American footballer Joey Bilotta to provide international soccer players football and education academy courses worldwide.