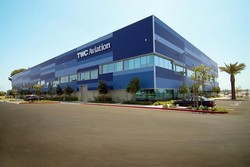 The move to Van Nuys Airport was part of our long-term growth strategy and an investment in our future that is already paying off
Van Nuys, California (PRWEB) August 21, 2009
TWC Aviation, Inc., a recognized leader in private aviation services, this month celebrates the one-year anniversary of its move to Van Nuys Airport (VNY). TWC Aviation moved to the new custom-built office and hangar complex after outgrowing its previous headquarters at Bob Hope Airport in Burbank.
Featuring state-of-the-art technologies and a 45,000-square-foot hangar, TWC Aviation's Van Nuys headquarters is designed to support 24-hour worldwide operations while providing world- class amenities to aircraft owners and charter clients. Since the August 2008 move, the company has added nine aircraft to its FAA Air Carrier Certificate, including a Gulfstream G550 ultra-long range jet.
"The move to Van Nuys Airport was part of our long-term growth strategy and an investment in our future that is already paying off," says Andrew Richmond, President of TWC Aviation. "With 26 jets now in our managed fleet, and our successful worldwide jet charter business, we're perfectly positioned to continue our expansion and provide unsurpassed service to our customers."
About TWC Aviation, Inc.
Headquartered in Los Angeles at Van Nuys Airport, TWC Aviation, Inc. is a privately owned, independent company that provides aircraft management, aircraft sales and acquisitions, worldwide jet charter, and aircraft maintenance services. TWC Aviation is audited and certified to the International Standard for Business Aircraft Operations (IS-BAO) by the independent, nonprofit International Business Aviation Council. TWC Aviation is also independently audited and approved by Wyvern Consulting, Ltd and ARG/US. The company's international charter fleet includes jets from Bombardier, Cessna, Embraer, Gulfstream, and Hawker Beechcraft. Additional information is available online at http://www.twcaviation.com.
# # #