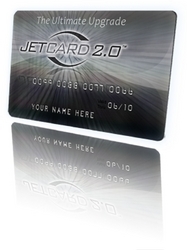 Save over $21,000 when you buy a 25 hour Jet Card 2.0 and receive 5 free hours. Fuel included!
Scottsdale, AZ (PRWEB) April 20, 2010
From now until June 30th, JetHub is offering a special promotional deal on their Jet Card 2.0TM program. Clients that purchase a 25 hour jet card will receive 5 hours of flight time completely free! Even better, JetHub is eliminating surprises by including the cost of fuel in the program fee. Pay one flat fee and receive 30 hours of private jet flight time.
5 free hours of private jet flight time equates to over $21,000 in savings!
JetHub is the only private jet charter company currently offering this exceptional deal. Relatively new to the private aviation industry, JetHub has already set a precedent of pushing the envelope to provide clients with the absolute best in service, pricing and safety.
The Jet Card 2.0TM makes flying privately even more convenient. Save time by buying hours in advance and fly with as little as 4 hours notice and no annoying trips to the bank. Save money by having the same low rate every time without any extra fees or even the added cost of fuel. Don't forget to add the $21,000 saved with the five free hours if purchased before June 30th.
The new Jet Card 2.0TM promotion is just another way for JetHub to demonstrate its appreciation of and commitment to clients. To learn more about the "Buy 25 Get 5" promotion, call (888) 435-9774 or go to http://www.jethubaviation.com/jetcard2promo/ today. Offer expires June 30th, 2010.
As a private jet charter broker based in Scottsdale, AZ, JetHub provides its clients with worldwide access to the largest fleet of private jets. JetHub serves as an agent in obtaining air charter services for its customers. JetHub selects carriers that are certified by the Federal Aviation Administration and registered with the U.S. Department of Transportation. Carriers are solely responsible for the air transportation by JetHub for its customers. JetHub does not own or operate the aircraft on which its customers fly. JetHub is not a direct or indirect air carrier. All JetHub arranged flights are operated by Part 135 air carriers.
###