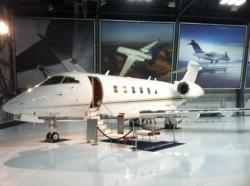 This brand new Challenger 300 will be an excellent transportation option for our charter clients and the Gulfstream 200 joins our growing fleet of managed aircraft, said Bob Marinace, Key Air President & CEO.
Oxford, CT (PRWEB) February 13, 2013
Key Air, a leading national provider of worldwide executive jet charter services, best-in-class aircraft management and FBO services began 2013 strong as it added two new aircraft to its jet charter and aircraft management fleet, a Bombardier Challenger 300 and a Gulfstream 200, strengthened its flight operations team and achieved Registered status from one of the most extensive and prestigious audit firms in the aviation industry.
Just delivered and new to the market, the pristine 2012 Wi-Fi enabled Challenger 300 based in Bedford, Massachusetts (BED) joins Key Air's wide-variety of charter aircraft ranging in size from the light- to super-mid- to large-cabin aircraft. This well-appointed and spacious aircraft has an 8 passenger dual tone leather club seating configuration and a transcontinental range of 3,500 statute miles. It offers an extensive entertainment system including Airshow and dual video monitors, a private separate aft lavatory and a fully equipped forward galley designed with an espresso machine.
The 2007 Gulfstream 200 also joining Key Air's managed fleet will be Part 91 operated and will be based in Key Air's Northeast FBO facility.
The new Challenger and Gulfstream joins an impressive fleet comprised of the most popular business jets including the Global 5000, Gulfstream V, Gulfstream IV and IV-SP, Falcon 900EX, Falcon 2000EX, Challenger 604, Challenger 300, Hawker 800 and 800XP and Lear 45XR which offers clients a broad range of solutions to meet their travel needs.
"We are very excited to add these business jet aircraft to the Key Air fleet." stated Bob Marinace, President/CEO of Key Air. "This brand new Challenger 300 will be an excellent transportation option for our charter clients and the Gulfstream 200 joins our growing fleet of managed aircraft."
To accommodate its fleet growth, Key Air recently hired Larry Mueller as its new Manager of Flight Coordination. Mr. Mueller is a licensed dispatcher and is vastly experienced in flight operations having dispatched flights for large aircraft fleets for the past 12 years in a wide variety of operations from fractional to FAR Part 121, 91 and 135. He is versed in the FAA's SMS Pilot and ASAP Programs and has been a presenter and panel member for the National Business Aviation Schedulers and Dispatchers Conference.
"Larry will be instrumental in continuing Key Air's philosophy of exemplary customer service to all of our clients and vendor partners and we are happy that he will be leading our outstanding flight coordination team," said Danny Olmstead, VP of Flight Operations for Key Air.
In addition to growing its managed aircraft fleet, Key Air has once again completed the rigorous audit review by the Air Charter Safety Foundation (ACSF) and achieved notable Registered status with the ACSF. This ACSF Industry Audit Standard Registry (IAS) is an all-inclusive audit tailored for Part 135 and 91 operators that consists of the most rigorous and thorough audit of an operator's processes and procedures, regulatory compliance as well as implementation of and adherence to a Safety Management System (SMS). Having received this status once again, Key Air exemplifies its continued commitment to maintaining the highest standards of safety in the industry. Of the current 2000 Part 135 operators in existence, Key Air is proud to be part of the elite and prestigious group of 16 operators registered. ACSF has made an extensive investment to create a comprehensive audit where both operators and their customers can be assured of process integrity and transparency.
"Key Air is proud to be among the highly respected companies that have achieved registration by the Air Charter Safety Foundation. The Air Charter Safety Foundation has created a high-quality measurement tool that gets at the very core of aviation safety culture," stated Bob Marinace.
"By renewing their status on the IAS Registry, Key Air has demonstrated their commitment to high standards," said ACSF president Bryan Burns. "We congratulate them on their continued commitment."
About Key Air
For over 27 years, Key Air has been an industry leader in worldwide jet charter, aircraft management, and FBO services. The success of its remote aircraft management model extends to nine base locations nationally. Key Air also has Fixed Base Operations and private aviation terminal space in strategic locations nationwide to provide a seamless private air travel experience. With convenient proximity to major U.S. cities like New York, Boston and Minneapolis-St. Paul, Key Air can deliver a more efficient and streamlined alternative to the often congested airports in each of these locations. Key Air's FBO facilities include: Key Air NY Metro (OXC) in Oxford, CT and Key Air Twin Cities (ANE) just outside Minneapolis-St. Paul, MN.
For more information about Key Air and our offerings, visit us at http://www.KeyAir.com or call at 888.539.2471.