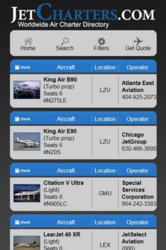 We've seen a lot of broker apps out there, but nothing that pairs consumers with operators.
Knoxville, TN (PRWEB) October 27, 2011
JetCharters.com, the worldwide air charter marketplace, is proud to carry its web-based private jet services to mobile devices with its new applications for iPhone and Android powered devices. These apps are designed to connect the private flyer with ideal aircraft and operators for any trip.
JetCharters.com applications make arranging private aviation easier by allowing travelers one-click access to aircraft near their current location. Using the "View Planes Near Me" feature, charter consumers can view planes in their general area no matter where they are.
"With one tap of the screen, executives can locate and contact flight options after their meeting in New York, or just use this feature from home to bypass the need to fill out trip details which can be time consuming from smart phones," project manager for JetCharters.com Robert Hart said.
Using the same gps technology, consumers also have instant access to discount one-way flight availability, often referred to as "empty legs." Empty legs are products of already scheduled one-way flights. When the aircraft must return home, charter consumers can often save thousands when opting to fly available empty legs.
Barron's financial magazine stated roughly one out of three charter jets takes off with absolutely no passengers on board and noted JetCharters.com as a site where empty legs can be found.
The mobile app will also enable users to be just one tap away from the latest in industry news on JetCharters.com where they can read about tips for optimizing private travel, aircraft reviews or enjoy our experiences at some of the most unique destinations you can fly to.
Unlike other private jet applications, the JetCharters.com apps connect retail charter consumers and charter operators.
"We've seen a lot of broker apps out there, but nothing that pairs consumers with operators," Hart said. "It makes no sense for individual operators to build their own apps, so we hope to fill their needs with the JetCharters.com app."
The JetCharters.com app is currently available on the iPhone and any DROID powered device. If you have either, download the app by visiting: http://www.jetcharters.com/mobile or by searching for "jetcharters.com" in your phone's marketplace. There is no charge for the app.
JetCharters.com is a Knoxville, Tenn. based worldwide air charter marketplace that connects the needs of the private aviation consumer with aircraft and operators across the globe. The website provides consumers with the ability to book travel, read news and reviews, list aircraft for hire, and purchase used aircraft.
###